Back to the Cutting Board
Chewy Brownie Bites or Brownie Cookies
adapted from All Recipes [1]
Dessert, Cookies | Servings: 36-40 small bites/cookies
Prep time: 15 min | Cook time: 9 min | Total time: 50 min
Ingredients
2/3 cup

shortening

or butter*

1 1/2 cups

packed

brown sugar

1 tbsp.

water

(omit if using butter)

1 tbsp.

vanilla

2

eggs

1 1/2 cups

flour

1/3 cup

+ 1 – 2 tbsp.

unsweetened cocoa

(add the extra tablespoons if you like things extra chocolate-y, otherwise 1/3 cup is fine)

1/2 tsp.

salt

1/4 tsp.

baking soda
Possible Add-ins:
1 1/2 –

2 cups

semisweet/bittersweet

chocolate chips

, white chocolate chips, butterscotch chips, etc.

1/2 cup

chopped

walnuts

or pecans

1 cup

chocolate candy

, like m&ms
Mint version:
1/4 tsp.

(or to taste)

peppermint extract

1 1/2 –

2 cups

mint chocolate chips
Peanut Butter version:
1/4 –

1/2 cup

peanut butter

(swirl this in at the end, it's better if it's not totally integrated into the dough!)
1 1/2 –

2 cups

peanut butter chips
Mexican Chocolate version:
2 tbsp.

(or to taste)

cinnamon

1 1/2 –

2 cups

cinnamon chips
*Note: You're going to get much flatter cookies if you use butter, but I get that a lot of people won't use shortening. Here's a good explanation of butter vs. shortening in cookies. [2] I used shortening this time because it's Christmas and I don't really care about health right now. If I made these more regularly, I would probably use butter instead, too. If using butter, omit the water.
If you are making multiple versions like I did, there is really no need to be precise with the add-ins. Make all the dough and divide it up in smaller bowls, then just stir in a handful of chips and/or small amounts of flavorings until you are happy with the look/taste.
Process
In a large mixing bowl, cream together shortening, sugar, water, vanilla and any other liquid flavorings (mint extract, etc.).
Beat in eggs.
In a medium bowl, stir together flour, cocoa, salt, baking soda and any other dry flavorings (cinnamon, etc.). Gradually add to creamed mixture and beat just until blended.
Stir in chocolate chips or other add-ins.
Drop by heaping teaspoonfuls into a mini-muffin tin (lightly sprayed if not non-stick) or 2 in. apart on ungreased baking sheets. Bake at 375 degrees (F) for 7-9 minutes. Do not overbake or they will be hard instead of chewy. They will be very soft, but shouldn't look wet. They will firm up as they cool. I found 7 minutes was perfect for the cookies, but the bites needed 9 minutes.
The bites will need to stay in the pan for about 10 minutes before they are firm enough to transfer to a rack to finish cooling. Cookies should stay on the pan for about 2 minutes before you transfer to a rack. Let sit for 15-30 minutes to completely cool and firm up.
Chewy Brownie Bites – 5 ways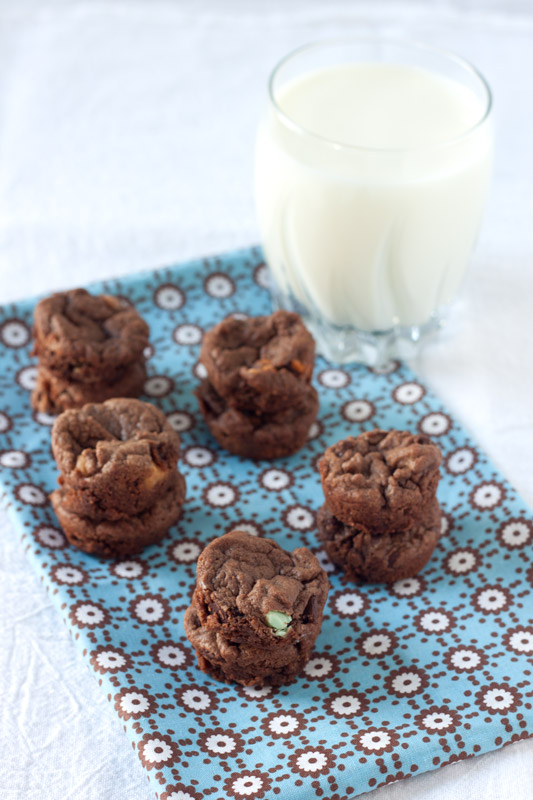 Ingredients
Process