Back to the Cutting Board
Chocolate Butterscotch Brownie Tart
adapted from Epicurious [1]
Dessert | Yield: 1 10″ tart (8 servings)
Prep time: 30 min | Cook time: 30 min | Total time: 1 hour 30 min
Ingredients
Crust
1 cup

flour

3 tbsp.

packed

light brown sugar

(maybe add another tablespoon?)

1 oz.

unsweetened chocolate

, chopped (maybe try semi-sweet/bittersweet instead?)

Pinch

of

salt

6 tbsp.

chilled

unsalted butter

, cut into pieces

2 tbsp.

milk

1 tsp.

vanilla
Filling
1/2 cup

unsalted butter

, room temperature

3 oz.

unsweetened chocolate

, chopped

3 oz.

semisweet chocolate

, chopped

1 1/2 cups

sugar

3

large

eggs

2 tsp.

vanilla

1/8 tsp.

salt

3/4 cup

flour

1/2 cup

chopped pecans

, toasted (optional)
Butterscotch Sauce
from How to Cook Everything [2] by Mark Bittman
3/4 cup

heavy cream

6 tbsp.

unsalted butter

, cut into pieces

3/4 cup

brown sugar

Pinch

of

salt
Process
Make the Crust: Chop the chocolate finely in a food processor or blender. Mix in the flour, sugar and salt. Add butter and cut in using on/off turns or manually using a pastry cutter until mixture resembles coarse meal. Add milk and vanilla; process/mix by hand until moist clumps form.
Press dough over bottom and up sides of 10 or 11″ diameter tart pan with removable bottom. Freeze for 30 minutes.
Preheat oven to 350 (F). Bake crust until just set and beginning to brown around edges, about 8 minutes. Transfer to rack and cool.
Make the Filling: Melt butter and chocolate in medium saucepan over low heat. Cool slightly. Beat sugar, eggs, vanilla and salt in medium bowl until fluffy, about 4 minutes. Add in chocolate mixture. Mix in flour and nuts.
Pour batter into cooled crust. Bake until filling puffs around edges and toothpick inserted into center comes out with moist crumbs attached, about 30 minutes. Transfer to rack and cool.
Make the Sauce: Combine cream and butter in a small saucepan, cook over medium-low heat, stirring occasionally, until butter is melted.
Stir in sugar and salt. Stirring frequently, cook until the mixture is thick and shiny, 5 – 10 minutes. (Bittman says you can add in more sugar at this point if don't think it's sweet enough, but uh…I have about the biggest sweet tooth around and can't imagine it needing more sugar.)
Immediately pour over cooled brownie tart. You may not need/want to use it all (I LOVE butterscotch, so I used it all), if you have leftovers you can refrigerate it in a covered container for up to a week and rewarm to use it on other things.
Butterscotch Brownie Tart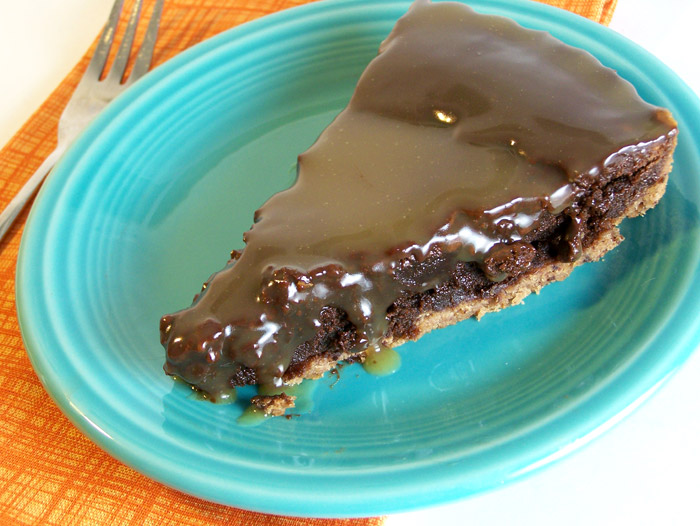 Ingredients
Process