Back to the Cutting Board
Butternut Squash Cake with Maple-Cream Cheese Glaze
adapted from Sabrina Model-Carlberg via Green Market Baking Book: 100 Delicious Recipes for Naturally Sweet & Savory Treats [1]
Butternut squash is very similar to pumpkin, so you can substitute 1 cup pumpkin puree for the squash in this recipe.
Dessert, Breakfast | Yield: 3 (5×3-inch) mini-cakes or 12 cupcakes or a 9-inch cake
Prep time: 45 min | Cook time: 40 min | Total time: 1 hour 30 min
Ingredients
1

butternut squash

, peeled, seeded and cut into chunks

2/3 cup

grapeseed oil

(or any mild oil)

3/4 cup

maple syrup

*

3

eggs

2 tbsp.

plain

Greek yogurt

1 3/4 cups

flour

1 1/2 tsp.

baking powder

1 tsp.

baking soda

1/2 tsp.

salt

1 tbsp.

cinnamon

1/2 tbsp.

ground

ginger

1 tsp.

ground

nutmeg

1/2 tsp.

cardamom
Glaze
Note: If you plan to use the glaze sparingly (like I did in my photos) you can half the amounts below.
4 oz.

cream cheese

3 to

4 tbsp.

milk

1 to

2 tbsp.

maple syrup

*

1/2 cup

powdered sugar
*I recommend using use Grade B dark maple syrup since it has a sweeter, richer flavor but Grade A works if that's all you have.
Process
Bring a large pot of water to boil and add the chunks of butternut squash. Cook for about 20 minutes or until the squash is tender. Drain and cool completely. Transfer the squash to a food processor or blender and puree until smooth. Measure out 1 cup of puree and set aside. Refrigerate or freeze the remaining puree for another use (or to make more cakes later!)
Preheat the oven to 350 degrees (F). Butter or spray three 5×3-inch mini loaf pans or a 12-cup cupcake pan or a 9×2-inch round cake pan.
Pour the oil and maple syrup in a mixer bowl and beat on medium for a couple minutes.
Add the eggs, one at time, beating well after each. Add the yogurt and beat the mixture until smooth.
Sift the flour, baking soda, baking powder, salt and spices into a medium bowl.
Add half of the flour mixture to the liquid mixture and mix on low until just combined.
Mix in butternut squash puree. Then add the rest of the flour mixture and mix until combined.
Pour into your prepared pan(s), if making mini-cakes or cupcakes fill tins about 3/4 full. Bake until a toothpick inserted in the center comes out clean, about 40-45 minutes for the cake or mini-cakes or 25-30 minutes for cupcakes. Cool on a wire rack.
While the cakes are cooling, beat together the cream cheese, milk, maple syrup and powdered sugar. The glaze should be thick but pourable, add more milk or maple syrup to adjust the thickness or sweetness if necessary.
When the cakes are still warm but not hot to the touch, remove from the pan(s) and drizzle or pour the glaze on top. Serve warm or at room temperature.
Store in the fridge for 3-5 days. (Note: I have to say that so you don't die of food poisoning, but I've left these out in an air-tight container for a couple of days and the cream cheese was still fine.)
Butternut Squash Cakes with Maple-Cream Cheese Glaze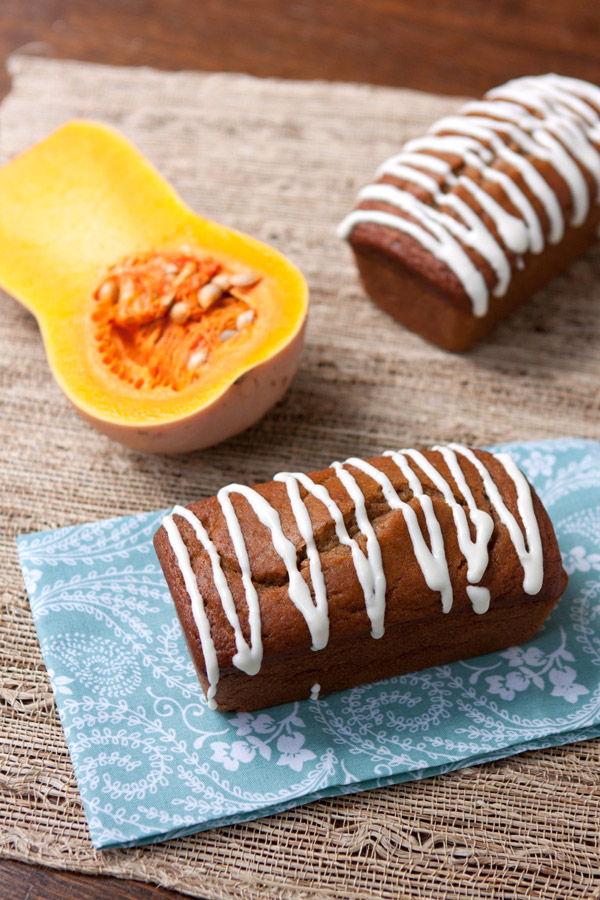 Ingredients
Process