Back to the Cutting Board
Blackberry Cobbler
from Back to the Cutting Board
Dessert | Servings: 4-6
Prep time: 30 min | Cook time: 1 hour | Total time: 1 hour 30 min
Ingredients
1 cup

butter

, divided

1 cup

sugar

1 cup

water

1 1/2 cups

flour

2 1/4 tsp.

baking powder

1/4 tsp.

salt

1/3 cup

milk

, room temp.

2 cups

blackberries

, fresh or frozen*

1/2 tsp.

cinnamon

2 tbsp.

sugar or

demerara sugar
Process
Melt 1/2 cup of butter in a 10″ oval or round baking dish.
Heat sugar and water in a saucepan until the sugar is melted. Set aside.
Mix together flour, baking powder and salt in a large bowl. Cut in 1/2 cup of butter until mixture is crumbly. Add in milk, stirring until dough forms (will still be kinda crumbly).

Turn on a floured surface and knead 3 or 4 times. Roll out into a rectangle about 10 inches long, 8 inches wide and 1/4 inch thick. Place the berries over the top of the dough in one layer and sprinkle with cinnamon. Carefully roll the dough up (blackberries WILL try to escape from the ends) like a cinnamon bun. Slice the dough in about 1 inch thick slices and place round side down in the dish of melted butter. If you run out of space just start layering the slices on top of each other.

Pour the sugar syrup from earlier on top of your slices. Back at 350 degrees (F) for 45 minutes. Sprinkle with sugar and bake another 15-20 minutes or until the top is golden brown.
Serve warm with vanilla ice cream. Also great with Pioneer Woman's Yogurt Cream [1].
Blackberry Cobbler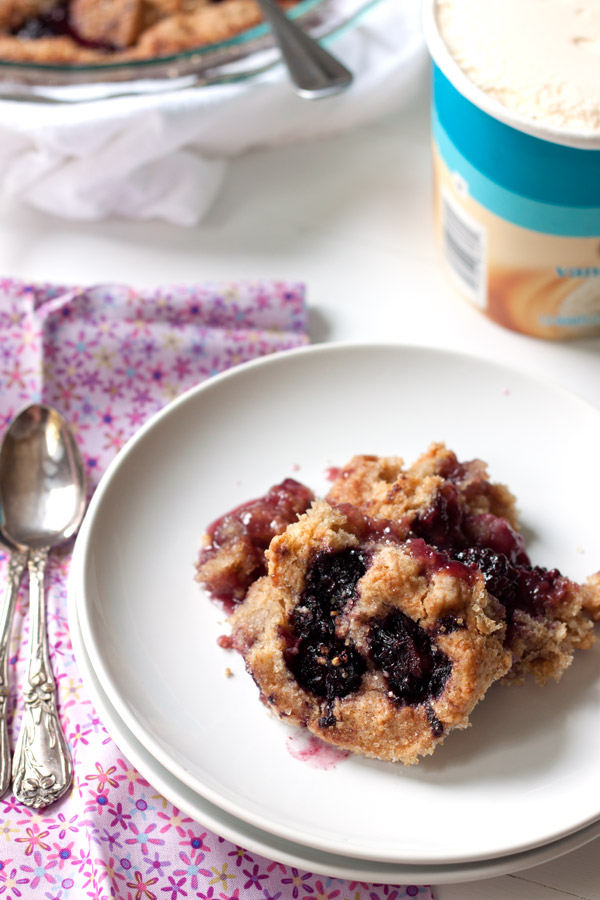 Ingredients
Process