Back to the Cutting Board
Black and White Cake Cookies
from Cooking Light Complete Cookbook [1]
Ingredients
1 1/2 cups flour
1/2 tsp. baking powder
1/2 tsp. salt
2/3 cup applesauce
1 cup sugar
1/4 cup butter, softened
1 1/2 tsp. vanilla
2 large eggs whites
White Frosting:
3/4 cup powdered sugar
1 tbsp. 2% reduced-fat milk
1/4 tsp. extract of your choice (almond, orange, mint, etc.)
Chocolate Frosting:
3/4 cup powdered sugar
2 tbsp. 2% reduced-fat milk
2 tbsp. unsweetened cocoa
Process
1. Preheat oven to 375 degrees (F). Spoon applesauce into a fine sieve over a bowl and let sit for 15 minutes until the liquid has drained through. Discard the liquid.
2. Combine flour, baking powder and salt into a bowl. Set aside.
3. Combine butter, sugar and drained applesauce into a large bowl and beat with a mixer until well blended. Beat in vanilla and egg whites. Add in the flour mixture and beat a low speed until blended.
4. Line a baking sheet with parchment. Drop level tablespoons of dough onto sheet, about 2 inches apart. Bake for 10 minutes or until set but not browned. Cool on sheet for 2 minutes and then transfer to wire racks to finish cooling.
5. When the cookies are mostly cooled start making the frosting. For the white frosting, combine sugar, milk and extract in a bowl and stir until smooth.
6. Take one cookie at at time and spread about 1 tsp. of the white frosting over half the cookie. Put it back on the rack to set and repeat with the rest of the cookies.
7. When the white frosting is set (after at least 10 minutes), make the chocolate frosting by combining the sugar, cocoa and milk and stirring until smooth. Spread 1 tsp. over the other half of each cookie and put back on the rack to set.
Servings: 2 dozen
Black and White Cake Cookies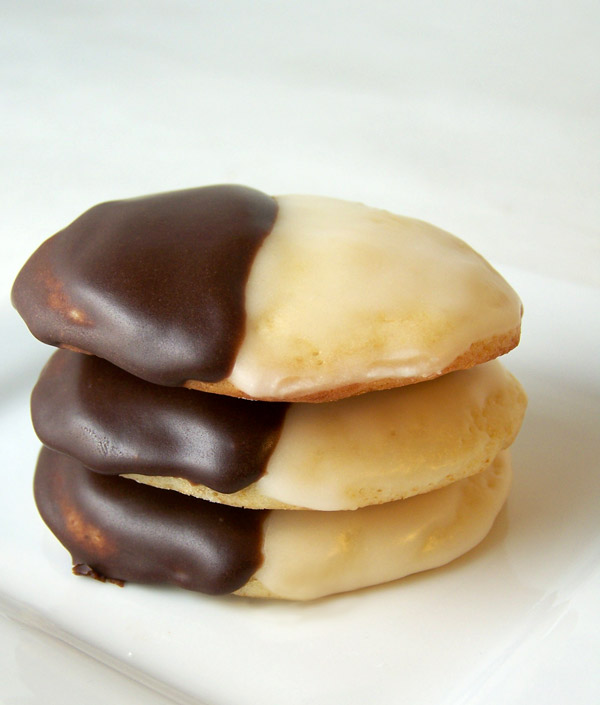 Ingredients
Process