Back to the Cutting Board
Berry-Orange Fruity Oaty Bars
adapted from Eating Well [1]
Breakfast, Snack, Dessert | Servings: 18 bars
Prep time: 30 min | Cook time: 45 min | Total time (counting cooling): 2 hour 45 min
Ingredients
1/2 cup

chopped

almonds

,

walnuts

,

pecans

, or

hazelnuts

, plus more for sprinkling on top if you want*

3/4

cup

rolled oats

, divided*

3/4 cup

whole-wheat pastry flour

(or run regular whole wheat flour through a sifter a couple of times)

3/4 cup

all-purpose flour

1/2 cup

sugar

1/2 tsp.

salt

4 tbsp.

cold

unsalted butter

, cut into small pieces

1

large

egg

2 tbsp.

canola oil

1 tsp.

vanilla

1/4 tsp.

almond extract
*Note: These bars can be made with all nuts or all oats if you don't want to combine them. You need 3/4 cup ground up oats/nuts/combo plus 1/4 chopped up oats/nuts/combo for the topping.
Fruit Filling
5 cups

cranberries

,

blueberries

,

raspberries

,

cherries

or

strawberries

, fresh or frozen, divided

1/2 cup

orange juice

3/4 cup

– 1 cup**

sugar

1/4 cup

cornstarch

1 cup

orange segments

1 1/2 tsp.

grated

orange zest

1 tsp.

vanilla
**Note: If you're using cranberries, I'd recommend you increase the sugar by 1/4 cup or so unless you like really tart things.
Process
Note: Steps 2-4 can be done exclusively in your food processor, but I don't have one and it annoys me when recipes only tell you how to do something in a food processor. Am I the only person in the world who doesn't have one?
Preheat oven to 400 degrees (F).
Combine the nuts and oats in a blender or food processor and run until finely ground. Transfer to a bowl and stir in both flours, sugar and salt.
Add chunks of butter and use a pastry blender or you fingers to incorporate it into the flour mixture until crumbly.
Whisk egg, oil, vanilla and almond extract in a small bowl. Pour into flour mixture and stir until it everything is combined. It will be crumbly.
Transfer 1/2 cup of the mixture to a small bowl and stir in the remaining 1/4 cup rolled oats (or nuts or a combination of the two). Set aside for the topping.
Line a 9×13″ or two 9×5″ pans with foil or parchment paper. Spray the lined pan with cooking spray. Spread the dough evenly in the pan and press firmly into the bottom to form a crust. Set aside.

Combine 3 cups berries, orange juice, sugar and cornstarch in a large saucepan. Bring to a simmer over medium heat, stirring constantly until the mixture is very thick, 4 to 5 minutes. This could take up to 10 minutes if you started with frozen fruit.

Stir in the remaining 2 cups of berries, oranges, orange zest and vanilla.
Spread the fruit filling over the crust. Sprinkle the reserved topping over the filling.
Bake the bars for 15 minutes. Reduce oven temperature to 350 degrees and bake until the crust and topping are lightly brown, 25 to 30 minutes.
Let cool completely before cutting into bars, at least 1 1/2 hours. They were still quite gooey when cooled and I found they were easier to cut into after being chilled in the fridge for an additional hour or so.
Store in the fridge in a covered container or wrap individually in plastic wrap or wax paper for easy transportation.
Nutrition info:

Blueberry-Orange Fruity Oaty Bars:
Serving size: 1 bar
Calories: 205
Fat: 7g
Carbohydrates: 34g
Fiber: 3g
Protein: 3g


Cranberry-Orange Fruity Oaty Bars:
Serving size: 1 bar
Calories: 194
Fat: 7g
Carbohydrates: 32g
Fiber: 3g
Protein: 3g

Berry-Orange Fruity Oaty Bars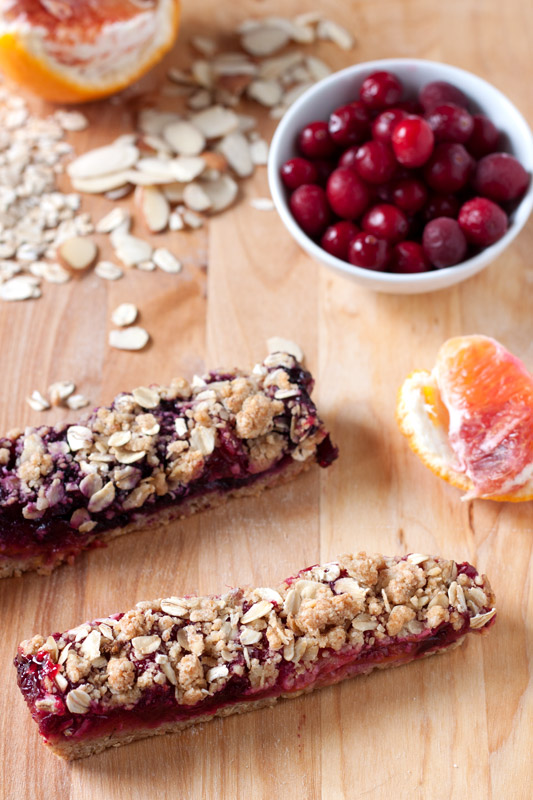 Ingredients
Process