Back to the Cutting Board
Pumpkin Cranberry Crunch Muffins
from Back to the Cutting Board,
Pumpkin granola adapted from Two Peas and their Pod [1]
This recipe makes 12 large muffins or up to 16 medium muffins. Alternately, you can make one loaf in a 9x5x3-inch pan. If making the larger muffins I recommend using cupcake liners so the muffins will be easier to remove from the pan after baking, otherwise they're very moist when hot and the top may tear off due to the weight of the topping and cranberries.
Breakfast | Servings: 12-16 muffins or 1 loaf
Prep time: 60 min | Cook time: 25 min | Total time: 1 hour 25 min
Ingredients
Pumpkin Granola Topping:
2 1/2 cups

(8.75 oz)

rolled oats

1/2 cup

(1.75 oz) ground

flaxseed

(optional)

1/2 tsp.

(1 g)

pumpkin pie spice

1/2 tsp.

(1.4 g)

cinnamon

1/8 tsp.

(.5 g)

nutmeg

1/4 tsp.

(1.6 g)

salt

1/3 cup

(2.5 oz)

light brown sugar

1/4 cup

(2.4 oz)

pumpkin puree

2 tbsp.

(15.2 g)

unsweetened applesauce

2 tbsp.

(1.4 oz)

maple syrup

1/2 tsp.

(2 g)

vanilla
Muffin:
1/2 cup

(4 oz. – 1 stick)

butter

(softened)

1/2 cup

(3.5 oz)

sugar

2

eggs

1 cup

(5 oz)

all-purpose flour

3/4 cup

(2.5 oz)

whole wheat pastry flour

(or twice-sifted whole wheat flour)

1 tsp.

(6.7 g)

salt

1 tsp.

(4.9 g)

baking powder

1/2 tsp.

(2.5 g)

baking soda

1/2 tsp.

(1 g)

pumpkin pie spice

1/4 tsp.

(.7 g)

cinnamon

1/4 tsp.

(1 g)

nutmeg

1 cup

(9.5 oz)

pumpkin puree

1/2 cup

(5.5 oz)

maple syrup

1 1/4 cups

(4.4 oz)

cranberries

(fresh or frozen, no need to thaw)
Optional Orange Glaze:
1 1/2 cups

(4 oz)

powdered sugar

2 tbsp.

(30 g)

orange juice

1/8 tsp.

(.39 g)

orange extract

(optional – it adds an extra punch of orange flavor)
Process
Start by making the granola, it can be made a day ahead of time if you want. You'll only need about a cup of granola for the muffins so eat the rest with milk or yogurt, it also works great in granola bars [2].
Preheat oven to 325 degrees (F). Line a baking sheet with parchment paper and set aside.
In a large bowl, stir together the oats, ground flaxseed, spices and salt.
In a smaller bowl, whisk together the brown sugar, pumpkin, applesauce, maple syrup and vanilla. Pour onto the oat mixture and stir until the oats are evenly coated.
Spread evenly on the baking sheet and bake for 20 minutes. Stir the oats and bake for another 15-20 minutes or until the granola is golden and crisp. Let cool while you make the muffins.
Heat oven to 350 degrees (F). Grease a muffin pan or 9x5x3-inch loaf pan.
In a mixer bowl cream the butter, gradually adding the sugar, until light and fluffy. Add eggs and beat until well combined.
In a separate bowl combine the flours, salt, baking powder, baking soda and spices.
In another bowl mix the pumpkin and the maple syrup.
Stir in half the dry mixture with the butter mixture. Then stir in 1/2 of pumpkin mixture. Repeat with remaining dry mixture and remaining pumpkin, mixing after each.
Gently fold in the cranberries.
Divide the batter evenly in the muffin cups (filled all the way up for large muffins or 3/4 for medium muffins). Sprinkle granola on top. Bake for 25-30 minutes or until a toothpick comes out clean. Cool 10 minutes in the pan, then transfer the muffins to a wire rack to cool completely.
Optional: Stir together the ingredients for the orange glaze and drizzle on top of the muffins before serving.
Store in an air-tight container or bag for up to 4 days. These can be frozen and reheated in the microwave.
Pumpkin Cranberry Crunch Muffins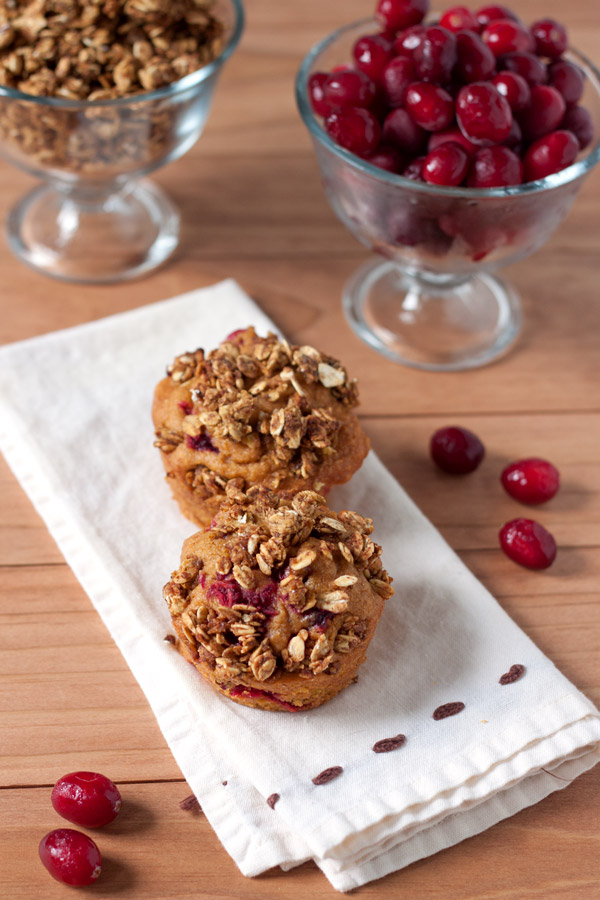 Ingredients
Process