Back to the Cutting Board
Orange Poppy Seed Muffins
adapted from The Cook's Illustrated Cookbook [1]
Breakfast | Servings: About 12 jumbo muffins or 24 regular muffins
Prep time: 20 min | Cook time: 30 min | Total time: 1 hour
Ingredients
3 cups

(15 oz.)

flour

1 tbsp.

baking powder

1/2 tsp.

baking soda

1/2 tsp.

salt

3 tbsp.

poppy seeds

10 tbsp.

unsalted butter

, softened

1 3/4 cups plus 3 tbsp.

sugar

Zest and juice of

1 medium

orange

(3 to 4 tbsp. of juice)

2

eggs

1 1/2 cups

plain low fat yogurt
Orange Syrup
1/4 cup

fresh orange juice

1/4 cup

sugar
Process
Adjust oven rack to lower-middle position. Insert paper liners [2] into or generously spray muffin pan(s). I found it better to use liners (at least for the jumbo size) because they made the muffins easier to remove from the pan.
In a large bowl, mix flour, baking soda, baking powder, salt and poppy seeds. Set aside.
Using a stand mixer with the paddle attachment, cream butter, sugar and orange zest on medium-high until light and fluffy, about 3 minutes. Add eggs, one at a time, mixing well after each addition. Add orange juice and mix well.
Reduce speed to low. Mix in 1/2 cup of yogurt. Then mix in half of the flour mixture. Scrape down the sides as necessary. Repeat with another 1/2 cup of yogurt and the remaining flour mixture. Mix in the remaining 1/2 cup of yogurt last. Give the batter one last stir by hand, it will be thick.
Use a ice cream scoop or large spoon to fill each muffin cup about 3/4 full. (Note: You can fill them up a bit more to get a puffier muffin, but make sure the top of your muffin pan is also sprayed or else the muffin tops will stick.) Bake jumbo muffins for 25-30 minutes and regular muffins for 20-25 minutes. Rotate pans halfway through baking. Muffins should be golden brown and a toothpick inserted in the center should be clean with a few crumbs attached. Immediately remove muffins by inverting the muffin pan onto a wire rack. Turn the muffins right side-up and let them cool slightly.
While the muffins are baking, add the 1/4 cup orange juice and 1/4 cup sugar to a small saucepan. Cook over medium heat until the sugar is dissolved and the mixture thickens slightly, about 5 minutes. Use a pastry brush to coat the tops of the warm muffins with the warm syrup.
Serve muffins warm or at room temperature. Store in an airtight container for 3 to 4 days.
Orange Poppy Seed Muffins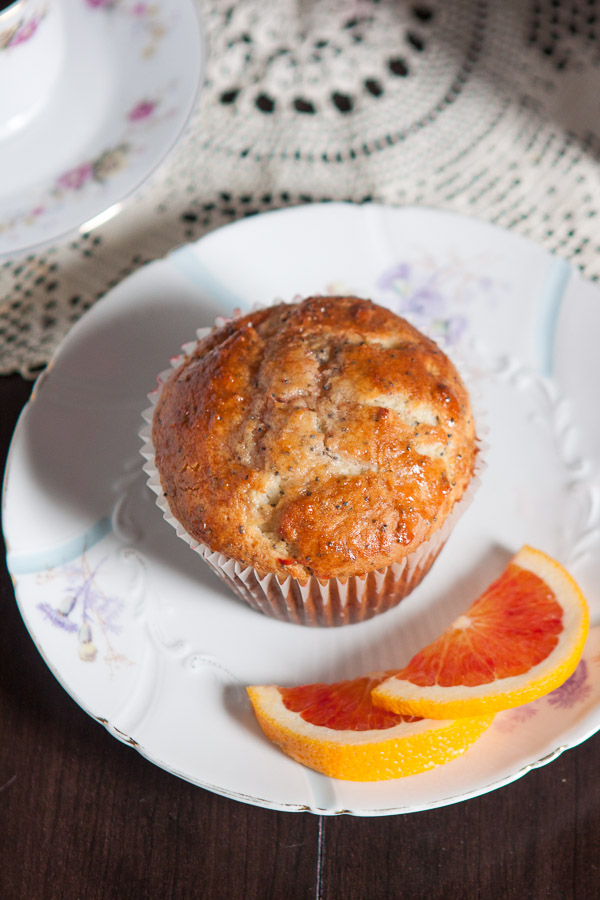 Ingredients
Process