Back to the Cutting Board
Orange Cinnamon-Raisin Swirl Coffee Cake
adapted from Cooking Light Complete Cookbook [1]
Breakfast | Servings: 12-16
Prep time: 45 min | Cook time: 25 min | Total time: 2 hour 15 min
Ingredients
2 1/4 tsp.

dry yeast

(1 package)

1/2 tsp.

sugar

1/4 cup

warm

water

(100 -110 degrees)

1/3 cup

fat-free milk

2 tsp.

vanilla

, divided

1

large

egg

1 1/2 cups

all-purpose flour

1 1/4 cups

whole wheat flour

1/3 cup

sugar

3 tbsp.

cold

butter

, cut into small pieces

3/4 tsp.

salt

1 1/2 cups

raisins

, plus 1/4 cup

1 tsp.

cinnamon

1/4 tsp.

ginger

1/2 cup

orange juice

1 cup

powdered sugar

1/4 tsp.

orange extract

2 tbsp.

fat-free milk
Process
In a small bowl, dissolve yeast and 1/2 tsp. sugar in the warm water. Let stand for 5 minutes.
Stir milk, 1 tsp. vanilla and egg into the yeast mixture. Set aside.
In a large bowl (or a food processor), mix both flours, 1/3 cup sugar and salt. Cut in butter with a pastry cutter (or pulse about 5 times in your FP) until blended.
Slowly pour in yeast mixture and stir (or process) until dough forms into a ball. (Note: Mine was pretty dry so I added a bit more milk until it formed a ball.)
Place dough on a floured surface and knead lightly 4-5 times.

Spray a large bowl with cooking spray and place the dough inside. Cover with a lid or plastic wrap and let rise in a warm place (85 degrees) for 1 hour or until almost doubled in size.

(Note: It's pretty cold in my house these days, so I turned my oven on to 150 degrees for 1 minute and then turned it off. I waited another minute and then put bowl in the oven. Even doing that it still hadn't risen completely after an hour, so I took the bowl out and turned the oven back on again for 1 minute and put the bowl back in there for about 30 minutes more. If you gently press two fingers into the dough and indentation remains, it has risen enough.)

Punch dough down, cover and let rest for 5 minutes.
Meanwhile, in a blender or food processor, place 1 tsp. vanilla, 1 1/2 cups raisins, cinnamon, ginger and orange juice. Blend until the raisins are chopped up but the mixture is still thick and chunky, about 1-2 minutes. You can add in a little bit more orange juice if it gets hard to blend. Set aside.
On a floured surface, roll dough into a 15 x 10 inch rectangle.
Spread the raisin mixture evenly across the dough but leave a 1 inch space across the top (long) edge. Sprinkle with remaining 1/4 cup of raisins.

Roll up the dough tightly starting at the bottom (long) edge. Pinch the seam to seal well.

Roll over so the seam is down. With a serrated knife cut the dough in half, lengthwise.

Spray a 12″ round pizza pan with cooking spray. Take one half of your dough and coil it around itself with the cut side up. Then take the other half, making sure the cut side it up, join the end with the end of the first half and continue coiling it around to create one big swirl. Cover with plastic wrap and left rise for 1 hour or until doubled in size (Note: I used the same warm oven method as I noted above).

Preheat oven to 350 degrees (F). Remove plastic wrap and bake for 25-30 minutes or until golden brown. Remove from pan and put on a plate.
Mix powdered sugar, milk and orange extract until smooth. The consistency should be thick, but pourable. You can add a bit more milk if it's too thick. Drizzle over the warm cake. Serve warm or at room temperature.
Note: This can be made ahead of time. Follow the recipe through the first rise (step 6). After the dough has doubled in size, punch it down and cover the bowl with plastic wrap. Place the bowl in your fridge and chill up to 8 hours or overnight. The next day, resume the recipe to shape and bake the coffee cake.
Orange Cinnamon-Raisin Swirl Coffee Cake (AKA The GIANT Cinnamon Roll)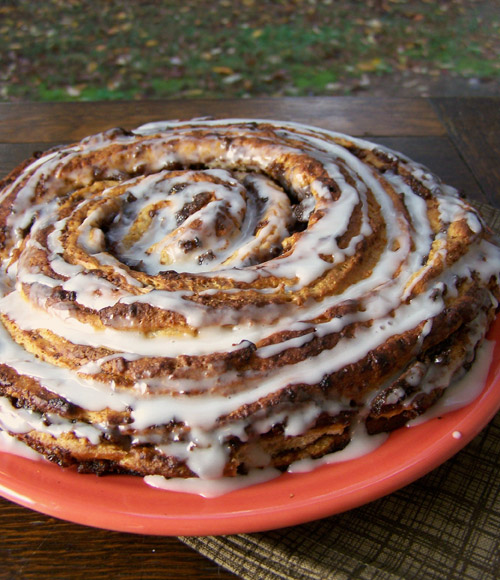 Ingredients
Process