Back to the Cutting Board
Marbled Chocolate Banana Muffins with Chocolate Graham Cracker Streusel
from Back to the Cutting Board
If you are looking to cut down on the sugar/calories, these muffins are just as good without the streusal on top!
Breakfast, Dessert | Servings: 6 extra-large muffins or 12 regular sized muffins
Prep time: 20 min | Cook time: 25 min | Total time: 55 min
Ingredients
1 1/2 cups

whole wheat pastry flour

OR 1 cup sifted whole wheat flour (or white whole wheat) + 1/2 cup all-purpose flour

1 tsp.

baking soda

3/4 tsp.

salt

1 stick

(1/2 cup)

butter

, room temp.

3/4 cup

sugar

1

egg

1/3 cup

nonfat or

low-fat buttermilk

(or nonfat/low-fat milk with a tsp. of lemon juice added, let sit for at least 10 minutes before using)

1 tsp.

vanilla

1 1/4 cup

mashed bananas

(2-3 bananas)

1.5 oz.

bittersweet or

semi-sweet chocolate

(chips or squares)

2 tbsp.

unsweetened cocoa
Streusel
2 tbsp.

butter

3 tbsp.

sugar

1/3 cup

chocolate graham cracker crumbs

(about 3 full graham crackers)
Process
Preheat oven to 350 degrees (F). Add cupcake liners to a muffin tin or spray well with cooking spray.
Melt chocolate over medium-low heat. Set aside to cool.
Using your fingers or a pastry blender, mix together butter, sugar and graham cracker crumbs until crumbly. Set aside.
Stir together flour, baking soda and salt in a medium bowl. Set aside.
In a large mixer bowl, cream together the butter and sugar until light. Add in egg.
Combine bananas, buttermilk and vanilla in small bowl. Add half of the banana mixture to the creamed mixture and mix, then add half of the flour mixture and mix. Repeat with remaining banana and flour mixtures until everything is combined, try not to overmix.
Pour half of the batter into the now empty flour bowl. This will be your regular banana bread.
Add the melted chocolate and cocoa to the remaining batter in your mixer bowl and mix until combined.
Using a spoon or small ice cream scoop, alternately add heaping spoonfuls of each batter on top of one another, swirling lightly afterward, until the muffin cup is about 3/4 full. Sprinkle with streusel.
Bake 20-25 minutes or until a toothpick inserted in the middle comes out clean (my extra large muffins took closer to 35 minutes). Keep in pan for 10 minutes and then remove muffins to cool on a wire rack.
Marbled Chocolate Banana Muffins with Chocolate Graham Cracker Streusel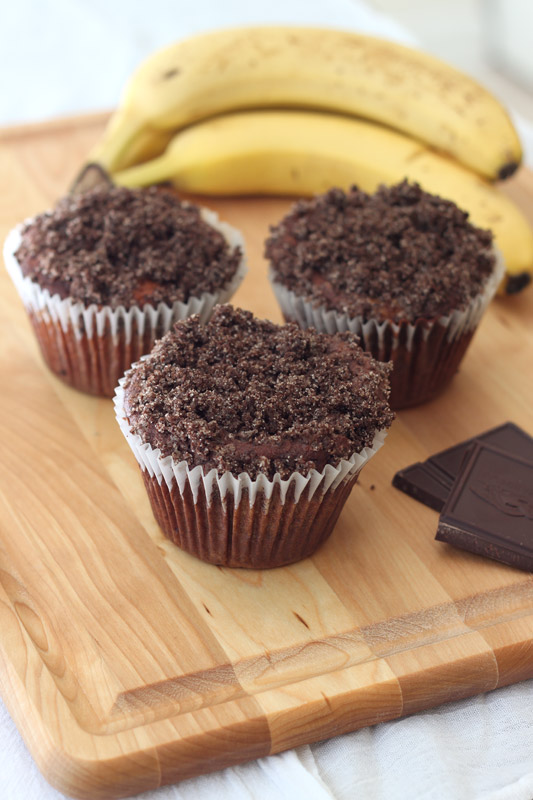 Ingredients
Process