Back to the Cutting Board
Pumpkin Apple Streusel Muffins
adapted from Allrecipes.com [1]
Breakfast | Yield: 18 regular sized muffins or 72 mini-muffins
Prep time: 15 min | Cook time: 20 min | Total time: 35 min
Ingredients
1 1/4 cup

all-purpose flour

1 1/4 cup

whole wheat flour

1 cup

brown sugar

1 cup

white sugar

1 tbsp.

pumpkin pie spice

*

1 tsp.

baking soda

1/2 tsp.

salt

2

eggs

, lightly beaten

1 1/4 cups

canned pumpkin pie mix

**

1/2 cup

unsweetened applesauce

2 cups

peeled, cored and chopped

apple
*If you don't have pumpkin pie spice, use the following instead: 1 1/2 tsp. cinnamon, 3/4 tsp. ginger, 1/2 tsp. allspice and 1/2 tsp. nutmeg.
**You could use plain canned pumpkin instead, but increase the applesauce by about 1/4 cup and double the spices.
Streusel:
4 tbsp.

all-purpose flour

1/2 cup

brown sugar

1 tsp.

cinnamon

2 tbsp.

butter
Process
Preheat oven to 350 degrees (F). Lightly grease muffin tin(s).
In a large bowl, combine flours, sugars, spices, baking soda and salt.
In a separate bowl, mix together eggs, pumpkin and applesauce.
Add pumpkin mixture to flour mixture; stirring just to moisten. Fold in apples.
Spoon batter into prepared muffin tins, about 3/4 full. An ice cream scoop is perfect for this.
In a small bowl, mix together the flour, sugar and cinnamon for the streusel topping. Cut in butter until mixture resembles coarse crumbs. Sprinkle topping evenly over muffins.
Bake regular sized muffins for 20-25 minutes, mini-muffins for 15-20 minutes, or until a toothpick comes out clean.
Store in air tight container for up to 3 days or freeze and microwave for 30-45 seconds to defrost individually.
Low Fat Pumpkin Apple Streusel Muffins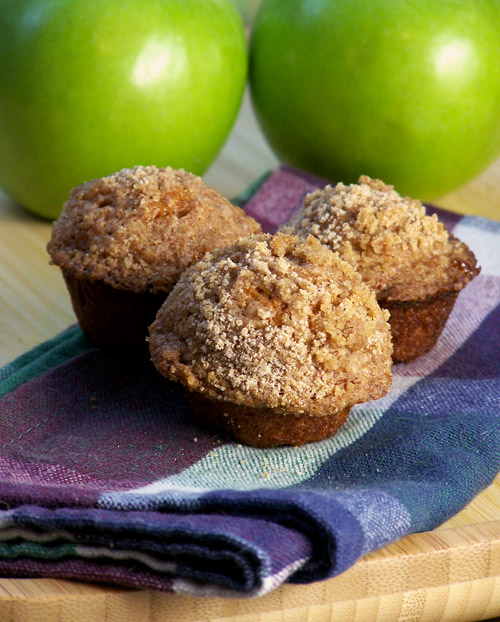 Ingredients
Process