Back to the Cutting Board
Cranberry Dutch Baby Pancake
adapted from Everyday Food [1], syrup from Taste of Home [2]
Breakfast | Servings: 4
Prep time: 5 min | Cook time: 20 min | Total time: 25 min
Ingredients
2 tbsp.

unsalted butter

3

large

eggs

, room temperature

3/4 cup

whole

milk

, room temperature

2 tsp.

grated orange rind

(about half a large orange)

1/2 cup

flour

2 tbsp.

sugar

1/4 tsp.

salt

1/2 cup

fresh

cranberries

Powdered sugar

for sprinkling
Orange Syrup:
1/2 cup

fresh-squeezed

orange juice

1 tbsp.

sugar

1 1/2 tsp.

cornstarch
Process
Preheat oven to 425 degrees (F). In a 10 or 12-inch cast-iron or oven-safe skillet, melt butter over medium heat. Remove from heat when melted.

To make this even faster, combine all ingredients except the butter and cranberries in a blender and blend for 1 minute.

Meanwhile, combine eggs, milk and orange rind in a bowl and beat well.
In a medium bowl, add flour, sugar and salt. Pour egg mixture into the dry ingredients and whisk until frothy.
Pour batter into the skillet. Sprinkle cranberries on top. Place in the oven and cook for about 20 minutes or until puffed and lightly browned.
Meanwhile, make the orange syrup: add orange juice, sugar and cornstarch to a small saucepan and bring to boil over medium heat. Cook, stirring frequently, until thickened, 1 to 2 minutes. Set aside to cool slightly. Syrup should be served warm, so heat it up in the microwave or over low heat if it cools off too much.
Serve pancake immediately, topped with orange syrup and a sprinkling of powdered sugar.
Recipe Notes:
If you're in a hurry, the milk and eggs don't have to be room temperature. But if you have the time, you'll get a fluffier pancake with room temp ingredients. One good way I've found to quickly and safely bring eggs to room temp is to cover them in warm (NOT hot) water for about 5 minutes.
I never have whole milk, so I usually use 1/2 cup 1% milk and 1/4 cup cream. But I've made this with all 1% milk and that turned out fine, too.
For a sweeter pancake, you can increase the sugar to 1/4 cup but since it's topped with syrup and powdered sugar, I find the extra sugar unnecessary.
Cranberry Dutch Baby Pancake with Orange Syrup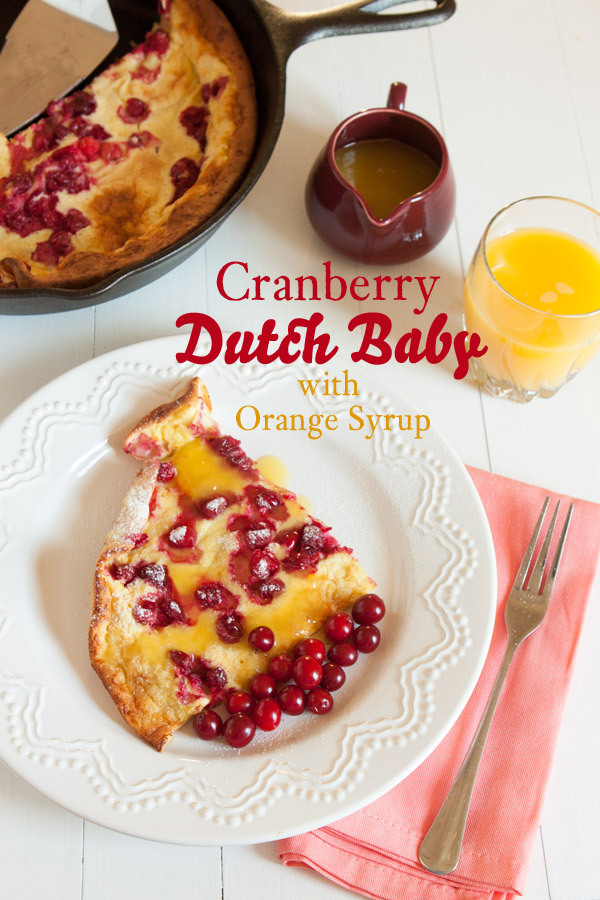 Ingredients
Process