Back to the Cutting Board
Cherry-Peach Yogurt Parfaits
adapted from Gourmet [1]
Breakfast, Snack | Servings: 4-6
Prep time: 30 min | Cook time: 10 minutes | Total time: 1 hour 10 min
Ingredients
1/3 cup

sugar

1/2 cup

water

5

fresh

bay leaves

, halved lengthwise, OR 2 large dried bay leaves

2 (3- by 1-inch) strips

lemon peel

2

(3- by 1-inch) strips

orange peel

6

small

peaches

(substitute: apricots)

1 lb.

fresh

cherries

(preferably Royal Ann or Rainier)

2 tsp.

lemon juice

2 cups

plain or

vanilla yogurt

(whatever fat content you want, but preferably Greek)

1 cup

heavy cream

OR 2 cups store-bought whipped cream

1/4 cup

, or to taste,

sugar

(only if whipping your own cream)
Process
Simmer sugar, water, bay leaves and peels in a 1-quart saucepan for 5 minutes, then remove from heat and let steep 20 minutes.
While syrup steeps Blanch and peel [2] the peaches and cut into even slices, about 1/2 or 3/4 inch thick; discard the pits.
Use a cherry pitter to remove pits and then slice the cherries in half. Alternately, run a paring knife crosswise around each cherry, touching pit, then twist the cherry halves to separate. Remove pits with tip of your knife.
Toss peaches and cherries with lemon juice in a large shallow bowl. Return syrup to a boil, then pour over the peaches and cherries, tossing to coat. Cover and let stand, stirring occasionally, until the mixture is at room temperature, about 30 minutes to an hour. Remove peels and bay leaves before serving.
Once the fruit mixture is ready, whip the heavy cream and sugar in a chilled bowl until stiff.
To assemble the parfaits, fill a glass a quarter of the way with the fruit mixture making sure there is some syrup in the bottom of the glass.
Top with enough yogurt to fill the glass halfway.
For the second fruit layer, place a strainer over your bowl of fruit and spoon some of the mixture into it, letting the syrup drain out. Add fruit on top of the yogurt until the glass is 3/4 full.
Finally, spoon the whipped cream on top.
Repeat process with remaining glasses. This should fill about 4 tall glasses or 6 short ones.
The fruit mixture can be made the night before and stored in the fridge. Spoon some over your morning yogurt for an even faster breakfast. It keeps well in the fridge for 2-3 days, but the fruit will get softer the longer it's in there.
Maple Granola Brittle
adapted from Gourmet [3]
Breakfast, Snack | Servings: 6
Prep time: 10 min | Cook time: 25 minutes | Total time: 1 hour 5 min
Ingredients
2 cups

rolled oats

1/2 cup

(2.5 oz)

almonds,

whole, sliced or ground/chopped into chunks (your choice)

1/3 cup

flaxseed

, ground up in a blender or food processor

1 tsp.

finely grated

orange zest

1 cup

light brown sugar

1/2 cup

pure

maple syrup

1/2 cup

fresh

orange juice

1/4 tsp.

salt

1/2 stick

(1/4 cup)

unsalted butter

, softened
Feel free to add more nuts or seeds but the total amount of granola should not exceed 3 cups. So for example, if you add in 1/2 cup of nuts and 1/2 cup seeds, reduce the amount of rolled oats to 1 cup instead of 2.
Optional Add-ins:
1/2 cup

(2 oz)

pecans

1/2 cup

(2 oz) shelled

sunflower seeds

1/2 cup

(2 1/2 oz) roasted

pumpkin seeds

(these should not be baked, add them to the granola when you add the zest)
Process
Put oven rack in middle position and preheat oven to 350 degrees (F).
Spread oats, almonds, and flaxseed in an even layer on a large baking sheet. Bake, stirring occasionally, about 15 minutes or until oats are pale golden. Transfer to a bowl and toss with zest.
Line a baking sheet (if using the same one as above, make sure it's cooled off first) with nonstick liner like a Silpat baking mat [4]. Measure out enough parchment paper to cover the baking sheet. Don't place it on the baking sheet, though, you will use it later.
Add brown sugar, maple syrup, orange juice, and salt to a 3 or 4-quart heavy saucepan. Attach a candy thermometer to the pan or use an instant thermometer. Cook over medium heat, stirring with a wooden spoon, until the mixture is thicker and the thermometer registers 290 degrees (F), about 8-12 minutes. You may need to turn the heat up a bit if it seems to be taking too long to reach that temperature, but be very careful because it will start burning very easily. If it starts looking/smelling burnt and you are close to 290 (280+), you can proceed to the next step.
Stir in butter until melted, the mixture will thicken and become opaque.
Quickly add oat mixture and stir until coated well.
Immediately pour onto your lined baking sheet, then cover the mixture with the parchment paper.
Roll out the mixture as thin as possible with a rolling pin, about 1/4 inch thick. Carefully peel off parchment paper and discard (don't worry if some caramel sticks to parchment).
Cool to room temperature, about 30 minutes. Break brittle into large pieces.
Store in an air tight container for up to two weeks. Stack it in layers divided by parchment to prevent the pieces from sticking together.
Cherry-Peach Yogurt Parfaits with Maple Granola Brittle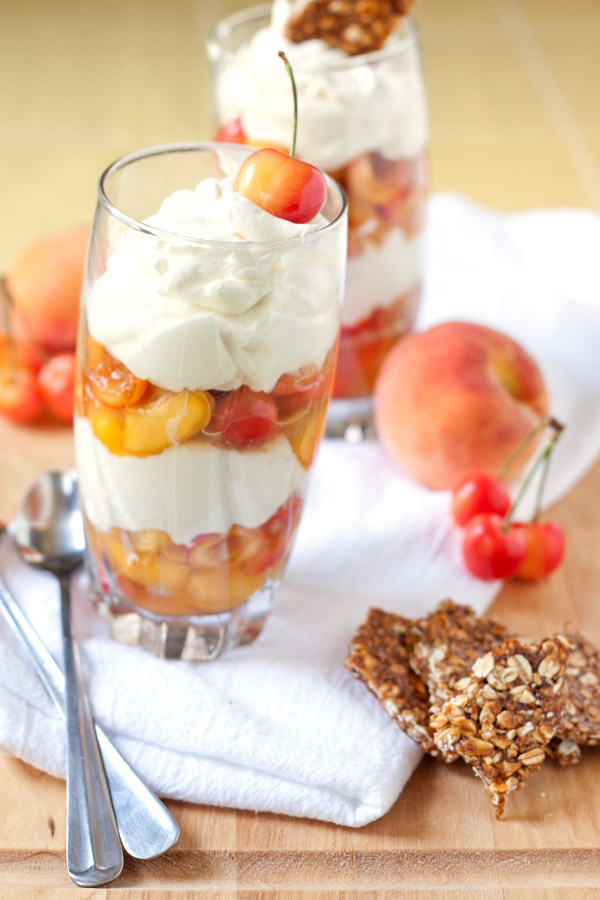 Ingredients
Process