Back to the Cutting Board
Berry-Orange Crunch Muffins
adapted from P.A. Brown via Sloane Taylor [1]
Breakfast, Snack | Servings: about 18 muffins
Prep time: 15 min | Cook time: 25 min | Total time: 40 min
Ingredients
1 cup whole wheat pastry flour (or twice-sifted regular whole-wheat flour)
1 cup all-purpose flour
1/4 cup flaxseed, ground up (you can do this in a blender)
1 1/2 tsp. baking powder
1/2 tsp. baking soda
1/2 tsp. salt
1 large egg (or egg substitute to make these even healthier)
3/4 cup orange juice
1/4 cup canola or other vegetable oil
2/3 cup light brown sugar
1 tsp. vanilla
1 tsp. grated orange zest
1 1/2 cup fresh or frozen berries (cranberries, blackberries, blueberries, currants, etc.)
1/2 cup low-fat granola*
*Make your own granola! It's easy and a lot healthier than the kind you can get at the store. I like this Applesauce granola [2] or this Pumpkin granola [3] (that's what's on my muffins in the photos).
Process
Preheat oven to 400 degrees (F). Coat muffin pans with cooking spray (this makes about 18 muffins).
Crush granola to eliminate larger chunks.
Combine flour, baking powder, baking soda, flax and salt in a large bowl.
In medium bowl, whisk juice, egg, oil, vanilla, zest and sugar and blend until sugar is dissolved.
Add the wet mixture to dry mixture and fold in until just moist. Gently fold in berries.
Fill muffin cups about 2/3 full, sprinkle with enough granola to cover top of muffin. Lightly press down so granola adheres.
Bake for 20-25 minutes or until tops are golden brown and a toothpick in the center comes out clean. Let cool for 5 minutes and then remove from pan. These can be served warm (the granola will be crunchier) or at room temperature. If stored in an airtight container these keep for at least a week without getting too dried out.
Nutrition info:
Note: This is not including the granola because the nutrition info will vary depending on if you make or buy your granola. I added 1 pt. to the muffin for about 1 tbsp. of my homemade granola. It would actually be less, but WW always rounds up.
With Egg:
Serving size: 1 muffin
Calories: 133 calories
Fat: 5g fat
Carbohydrates: 21 carbs
Fiber: 2 g fiber
Protein: 3 g protein
Weight Watchers Points: 4 pts.

With Egg Substitute:
Serving size: 1 muffin
Calories: 132 calories
Fat: 4g fat
Carbohydrates: 21 carbs
Fiber: 2g fiber
Protein: 3g protein
Weight Watchers Points: 3 pts.

Berry-Orange Crunch Muffins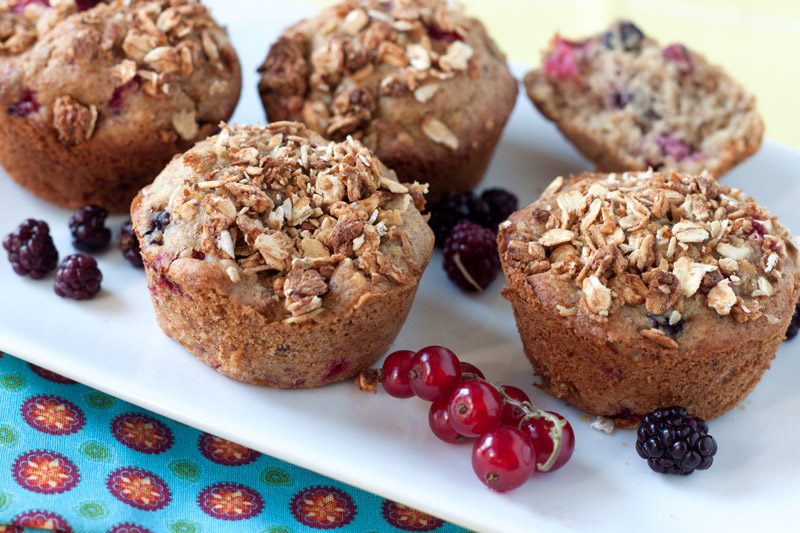 Ingredients
Process