Back to the Cutting Board
Banana Coffee Cake with Cinnamon-Chocolate Chip Streusel
adapted from Bon Appétit [1]
Breakfast | Servings: 6
Prep time: 20 min | Cook time: 45 min | Total time: 1 hour 5 min
Ingredients
3/4 to

1 cup

chocolate chips

(depends on how chocolatey you want it)
1/2 to

3/4 cup

packed

brown sugar

(depends on how sweet you want it)

1/2 cup

chopped

walnuts

(optional, I didn't put these in mine)

1 tbsp.

cinnamon

1 1/2 cups

flour

3/4 tsp.

baking soda

3/4 tsp.

baking powder

1/4 tsp.

salt

3/4 cup

sugar

1/2 cup

(4 oz. – 1 stick) unsalted

butter

, room temperature

1

large

egg

1 1/3 cups

mashed very ripe

bananas

(about 3 large)*

3 tbsp.

buttermilk or

plain yogurt

(I used the yogurt)
*Your bananas should be as ripe as possible. I'm not talking a few black spots, I'm talking almost completely black on the outside. The riper your bananas the better the flavor of the cake will be, this applies to making banana bread as well.
Process
Preheat oven to 350°F. Butter and flour 8x8x2-inch metal baking pan.
Stir chocolate chips, brown sugar, walnuts (if using), and cinnamon in small bowl until well blended; set streusal aside.
Sift all purpose flour, baking soda, baking powder, and salt into medium bowl.
Using electric mixer, beat sugar, room temperature butter, and egg in large bowl until fluffy. Beat in mashed bananas and buttermilk. Add dry ingredients and blend well.
Spread half of batter (about 2 cups) in prepared baking pan. Sprinkle with half of streusal. Repeat with remaining batter and streusal.
Bake coffee cake until toothpick inserted into center comes out clean, about 45 minutes. Let cool for at least 10 minutes.
Banana Coffee Cake with Cinnamon-Chocolate Chip Streusal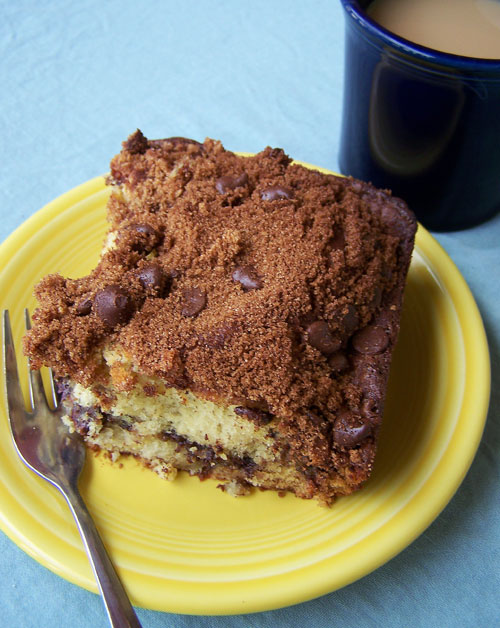 Ingredients
Process