September 5, 2012
Has this ever happened to you: you see someone eating something on TV or in the movies and all of sudden you just have a huge craving for what they're eating? This summer I've been rewatching one of my favorite TV shows, Gilmore Girls — Remember? Lauren Graham? Rory? Stars Hallow? The dear, departed WB? — and this has become a major problem for me. If you don't remember or never watched the show, let me just tell you: those Girls can eat. A lot. But they live in magical TV land where people can eat 20 pounds of junk food a day and not gain weight or have any kind of serious health problems. Sigh. I want to live in that world! Sadly, I don't so there's been a lot of watching Lauren Graham and Alexis Bledel eating delicious things as my stomach growls grumpily.
But some things you just can't shake. As I was leafing through a new cookbook these French Toast Waffles jumped right out at me. It's like the perfect Gilmore Girl breakfast: two of their favorite things (and mine, too, of course) in one! This is …
More Recipes
December 1, 2008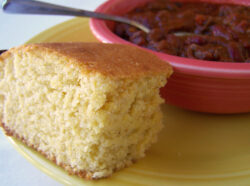 Who's tired of turkey? I am, I am! I've eaten nothing but turkey and leftovers since Thursday and I'm ready for something new. The problem is that after preparing such a big meal last week, I am not in the mood to make anything complicated or time consuming. For times like this, I have my two old standbys: my mom's spaghetti and chili. It was rainy and cold all day, so that translates to the perfect weather for some chili.
Now, I'll be the first to tell you that this is not some mind-blowing recipe for chili. There are probably tons of more creative recipes out there. But I've been making this stuff forever and it tastes great and gets the job done. I like it because I can make it up in 10 minutes in the afternoon and let it simmer …
June 23, 2010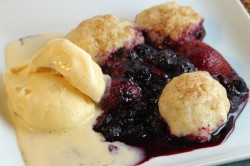 Next Monday, this blog will be 2 years old and since I didn't really do anything to celebrate the anniversary last year I decided to go all out this year. So welcome to the completely redesigned Back to the Cutting Board! If you're reading in the comfort of your feed reader, I'd love it if you'd click on through and take a look. Plus there is a reason you will want to visit, which I'll get to soon…
Since I've posted quite a few recipes over the last two years, I wanted to make the site easier to browse. I cleaned up the Recipe Index and I added a new Ingredients Index if you want to search for recipes with specific ingredients. I also made an effort to simplify things. I loved my previous design, but I wanted something cleaner and simpler this time. …
May 20, 2009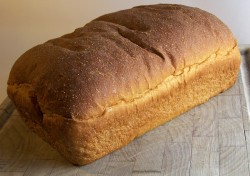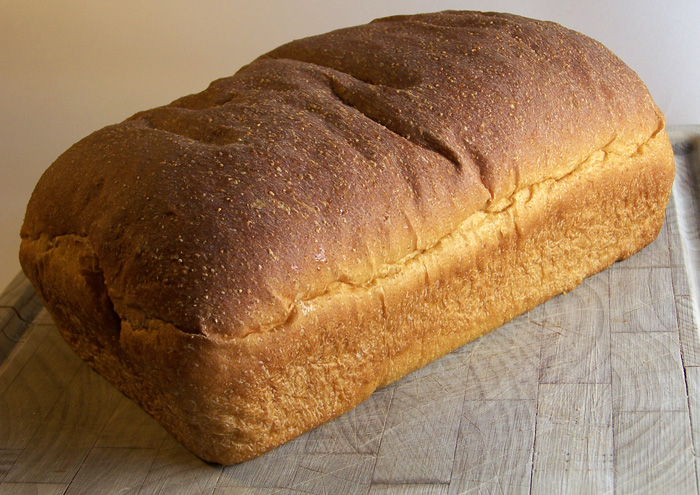 So I decided to do something a little crazy. The awesome Nicole at Pinch My Salt started a group to make every single recipe in The Bread Baker's Apprentice by Peter Reinhart. When she first announced it on Twitter, I was interested but ultimately decided it would be too much work. But then more and more people started joining with her and I kept thinking about it until she announced she was closing the group to new members. As soon as I heard that it made me realize how much I wanted to do this, so I emailed her immediately to join the group.
January 26, 2011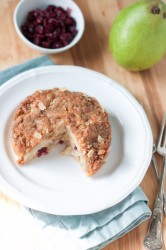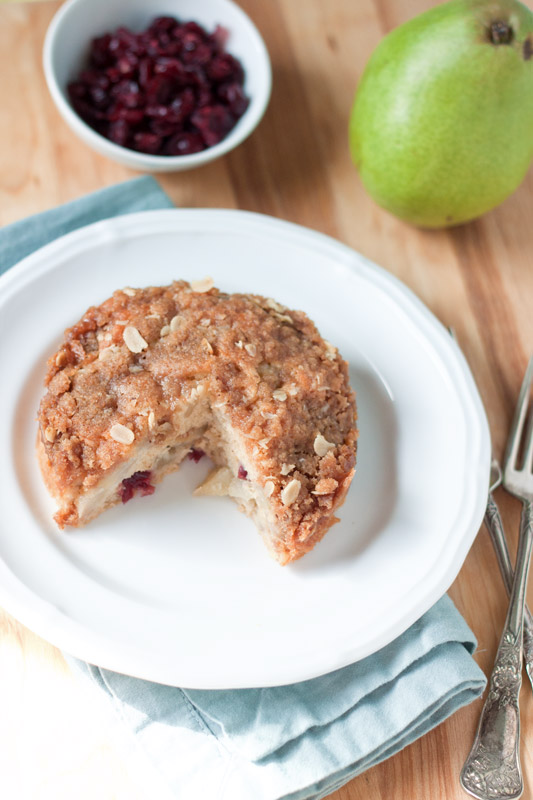 Streusal is probably one of my most favorite words to say as well as one of my favorite things to eat. But now I have a new favorite word: Kuchen. Kuchen just means cake in German, but it's so much more fun to call it kuchen, isn't it? Whatever you want to call this recipe, it's really good and very easy to make. It got the Brandon seal of approval and he rarely likes fruit-filled cakes, especially ones with cranberry. He said it tasted way too good to be a light recipe, but it is, so you don't even have to feel guilty about eating it!
This is basically a coffee cake, but it doesn't matter if you eat it for breakfast or dessert. I would venture to guess that you'll want to have it both times! It's an extremely moist cake, filled with caramelized pears …
October 31, 2008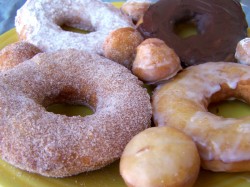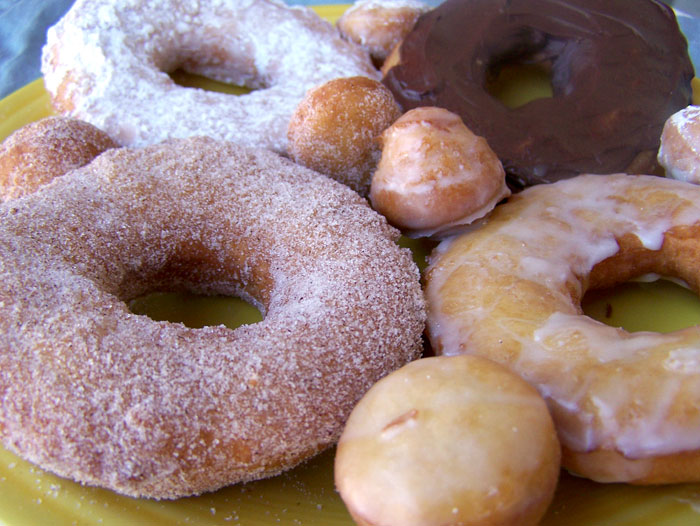 As I mentioned in my last post, I have major sweet tooth. So donuts are one of my very favorite things. But since they are also one of the very worst things for you to eat, I try to stay away from them. It helps that my boyfriend HATES donuts (unless they are fresh from the oven Krispy Kreme donuts), so I never have a good enough excuse to buy them. Because of that, I probably only eat donuts a few times a year, but that doesn't mean I don't have cravings for them, well, all the time.
So a couple of weeks ago, when I stumbled upon this recipe for dead simple donuts I just could not pass it up. I had to see if they were any good! I bought a can of pizza dough the next time I went to grocery store and tried it …
July 28, 2010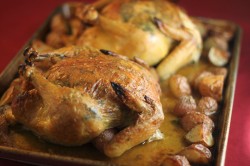 img class="centered" src="http://farm5.static.flickr.com/4112/4838051960_4e5193608b_z.jpg" alt="Thyme-roasted Chicken with Potatoes" width="640″ height="426″/>
I'm not a very talkative person. I think that's something that readers of this blog might be surprised about. Because I know my posts tend to be long, especially compared to a lot of other food blogs I read. But if you met me at a party, I might not say much, whereas if you give me a keyboard and a textbox to fill, I could probably "talk" for hours on end. That's one reason I love blogging and the internet so much. I guess I just feel more free to express myself here than I do in "real life". That's probably something I need to work on, but that's not really for this post to address.
The point I'm trying to make is that I'm usually so excited about sharing a recipe and describing why it's so good and my experience making it …
February 7, 2012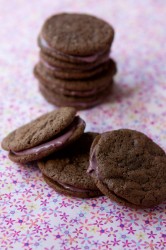 I've never made a big deal about Valentine's Day. It's nice to get some flowers but I don't expect anything else. We don't even bother going out to eat on Valentine's Day anymore because the restaurants are always so crowded. Besides, my birthday is less than a week later so it's easier to celebrate both occasions then. But there is one thing I love about Valentine's day, especially since I started this blog: it's a great excuse to make chocolate desserts!
I decided to make some cookies because Brandon's coworkers have been asking for more cookies from me ever since my epic cookie testing project last December. It's definitely flattering that they liked my cookies so much, so it seemed like a good idea to keep them happy and to find a great recipe to post for Valentine's Day at the same time! I found these chocolate malt cookies in one …