March 2, 2011
I generally put a lot of effort into making dinner. I comb through my cookbooks and bookmarks to come up with a meal plan every week and I try to make dinner most nights so that we won't go out to eat instead. Brandon is a good sous chef and helps me prep everything, but sometimes I'm just not in the mood to put in all the effort, so over the past couple of years I have gathered a bunch of go-to recipes just for this occasion. I keep the ingredients in stock so that if I'm tired or I forgot to defrost the meat for my planned recipe or whatever else goes wrong, I can pull them out and have dinner within an hour. This is one such meal and probably the one I default to the most. I realized I had never blogged about it, which felt weird since we eat it so much. But I think it's because these chicken tenders are so good that I've never wanted to bother with photographing them when I could be eating them …
More Recipes
April 10, 2009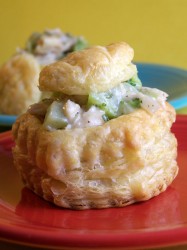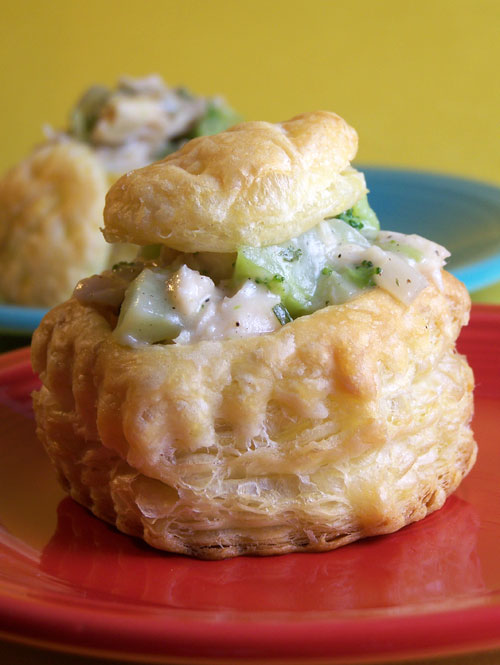 I guess this is one of those basic everyone-has-made-this kind of dishes, but OH. MY. GOD. you just wouldn't even believe how many years have gone into finding this recipe and then actually being able to make it. This recipe, like the inscrutably named Pineapple Stuff, was one of my absolute favorite dishes my mom made when I was a kid. So much so, that I still remember it fondly despite not eating it in almost 15 years. So last year when I started cooking again, I made it my mission to find this recipe. Except I couldn't remember what it was called or what the ingredients were other than broccoli and some adorable little puff pastry shells my mom always used. So I looked through every single recipe in my mom's old recipe collection (which is just a book with hundreds of handwritten recipe cards and …
August 7, 2008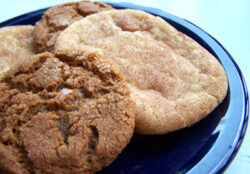 Have you ever seen two different recipes for the same thing and didn't know which one to make? That happens to me all the time. Sometimes I don't bother at all, thinking it's too much pressure to pick the "right" recipe, but if it's something that looks really good I might just make both and see what I like better. That is the case for these dueling snickerdoodle recipes that I found on two or my favorite sites: What Geeks Eat and Simply Recipes. The big difference between the recipes is the Shuna's at Simply Recipes has cornstarch, while Vanessa's has the more traditional cream of tartar. You can go read Shuna's post about why cornstarch is special. Due to this different "secret" ingredient in the cookies, I found the outcome of both to be completely different tasting cookies.
If you are cookie dough connoisseur, the …
December 15, 2009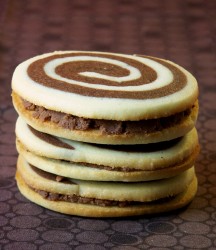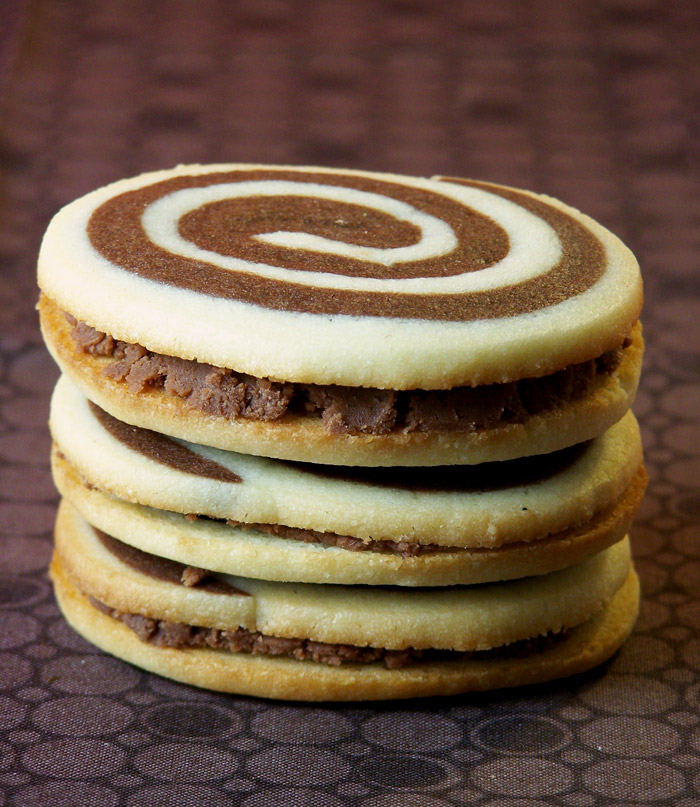 Christmas is my favorite time of year and one of the main reasons for that is all the baking I get to do. Even when I didn't cook much, I've always liked to bake and cookies are just about my favorite thing to make. Plus this time of year is the only time besides my birthday and Thanksgiving that I let myself make/eat whatever I want and I don't feel guilty about it. Diets are what January is for. (I've already signed up for Recipe Girl's Ten in '10 challenge!) So expect a bunch of sweet recipes around here for the next few weeks because I'm in the baking mood.
I'm obviously obsessed with black and white desserts, so I knew I had to make these as soon as I saw them. The original recipe isn't very christmas-y, but that was easily remedied …
March 24, 2009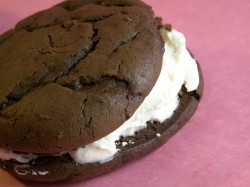 My boyfriend skyped me from work on Friday with a link to the article on Whoopie Pies in the New York Times. "You need to learn how to make these", he said. Not being one to pass up a baking challenge I made them later that night.
Apparently, whoopie pies are the new cupcake, but I don't know…I'll stick with cupcakes thanks very much. Not to say they aren't good because they are, but my issue was with the filling. Personally, I HATE making frosting. It was a miles better experience with my new stand mixer (I completely gave up making frosting with my hand mixer as it was just disaster after disaster with that thing), but it was still a pain and in the end I wasn't that impressed. I know it's called Buttercream, but geez, it's 2 whole sticks of butter! I …
July 20, 2010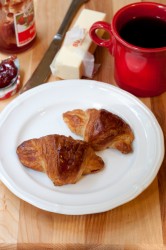 I'm always up for a baking challenge so when Julie over at Willow Bird Baking challenged her readers to make croissants, I didn't hesitate to sign up. I love croissants, but like donuts, I rarely eat them because of how bad they are for you. But there's just something about making something from scratch that makes it seem less bad for you. I guess because you have to put actual time and effort into making it instead of just going into a store and buying it. Plus, it's Brandon's birthday this week and that is one of the 4 times of the year (along with my birthday, Thanksgiving and Christmas) that I let myself eat whatever I want without feeling guilty about it.
And these croissants? Are absolutely worthy of much guilt, but they're just way too delicious and way too much work to feel guilty about. I mean, I made these …
June 28, 2008
I consider myself a fairly good baker. I've always had a sweet tooth, cakes, cookie, brownies, etc. I've been making those since I was a kid. Pies are different though. Pies always seemed too hard, so I haven't made many pies before. Maybe once a year during the holidays I'll try to make one, always with varying results. But when I saw this pie the other day, I knew I had to make that.
I thought this was kind of hard to make if only because it had so many steps with varying wait times before and after each part. But that's probably just because all the pies I've made in the past have been the mix it together, pour in crust variety. Next time, I'd probably just do a premade pie crust to make things a bit easier and faster. …
January 26, 2011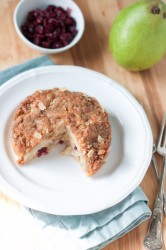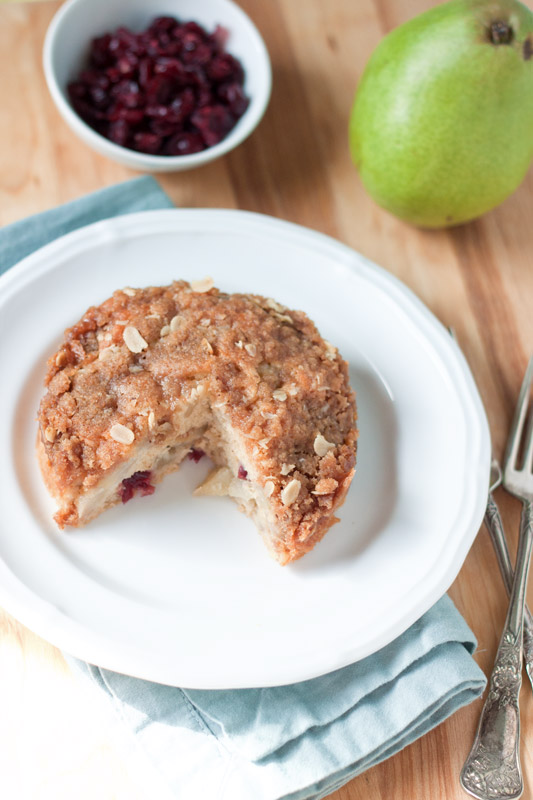 Streusal is probably one of my most favorite words to say as well as one of my favorite things to eat. But now I have a new favorite word: Kuchen. Kuchen just means cake in German, but it's so much more fun to call it kuchen, isn't it? Whatever you want to call this recipe, it's really good and very easy to make. It got the Brandon seal of approval and he rarely likes fruit-filled cakes, especially ones with cranberry. He said it tasted way too good to be a light recipe, but it is, so you don't even have to feel guilty about eating it!
This is basically a coffee cake, but it doesn't matter if you eat it for breakfast or dessert. I would venture to guess that you'll want to have it both times! It's an extremely moist cake, filled with caramelized pears …