March 18, 2009
This easy to make recipe is from the Philippines. You might think it was just your garden variety chicken and rice dish, but the sauce is so good it takes it to a whole other level. It's rich, tangy, tart and kinda sweet all at the same time. Maybe like a Filipino version of BBQ sauce…but honestly that description does not do it justice at all. You just have to taste it, you'll see what I mean. I got it from Mark Bittman's cookbook How to Cook Everything
, which I LOVE and highly recommend for the sheer number of recipes, but also the tips and helpful info he offers.
I'm pretty sure I remember Anthony Bourdain talking about Adobo on a recent episode of No Reservations? It's a very popular Filipino dish and this recipe can be made with chicken or pork, but I remember him saying there are tons of variations. If they are all as good as this, then I need to find more Filipino recipes because I could eat this …
More Recipes
December 15, 2009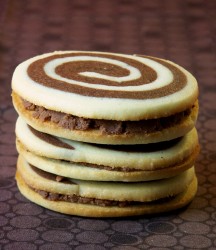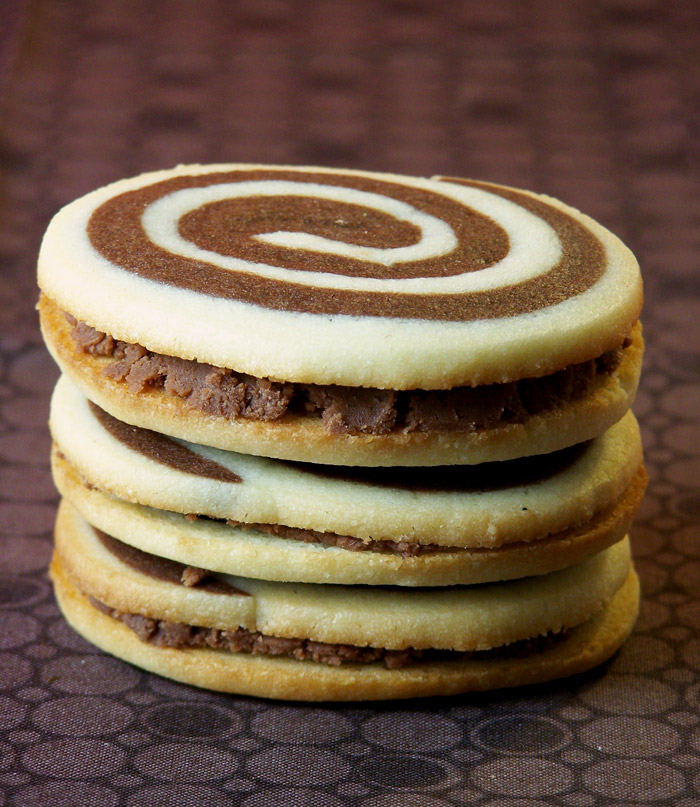 Christmas is my favorite time of year and one of the main reasons for that is all the baking I get to do. Even when I didn't cook much, I've always liked to bake and cookies are just about my favorite thing to make. Plus this time of year is the only time besides my birthday and Thanksgiving that I let myself make/eat whatever I want and I don't feel guilty about it. Diets are what January is for. (I've already signed up for Recipe Girl's Ten in '10 challenge!) So expect a bunch of sweet recipes around here for the next few weeks because I'm in the baking mood.
I'm obviously obsessed with black and white desserts, so I knew I had to make these as soon as I saw them. The original recipe isn't very christmas-y, but that was easily remedied …
October 22, 2008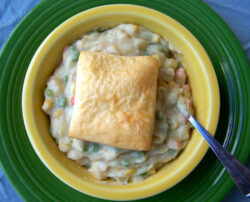 You could also call this Creamy Chicken Vegetable Soup. We've already established how much I love Jason's Deli. Well, this is another item they have that I love almost as much as their muffins. When I was searching around for a similar recipe, I wound up finding two. One was made from scratch and kinda high in fat, while the other was uber simple (10 minutes to make it – TOTAL) and low fat. I decided to make both and see how they compared. In end all taste-testers (which would be me and Brandon) agreed that the made from scratch version was better, but the other version was definitely still good and the fact that it was so simple and also low in fat made up for the taste discrepancies.
January 29, 2009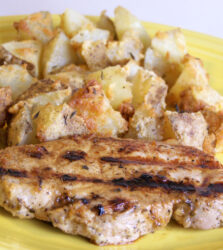 I made this the other night and even though it's not from the weight watchers cookbook, it's definitely low fat (the pork is anyway) and it's quite flavorful. I have some other WW recipes I need to post, but I'm having some technical issues, mainly that I'm having trouble getting good pictures in my horribly lit new kitchen (as you can see from the pic above, which I wouldn't normally post, but it's the best I had)*. I'm thinking about getting one of those table top lighting systems, possibly this one (mostly because it's under $100, and I'm cheap) . Anyone have experiences with these things like this? Recommendations? It really takes the fun out of it when I make something really good that I want to share and all …
November 21, 2008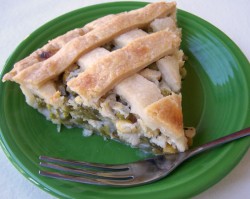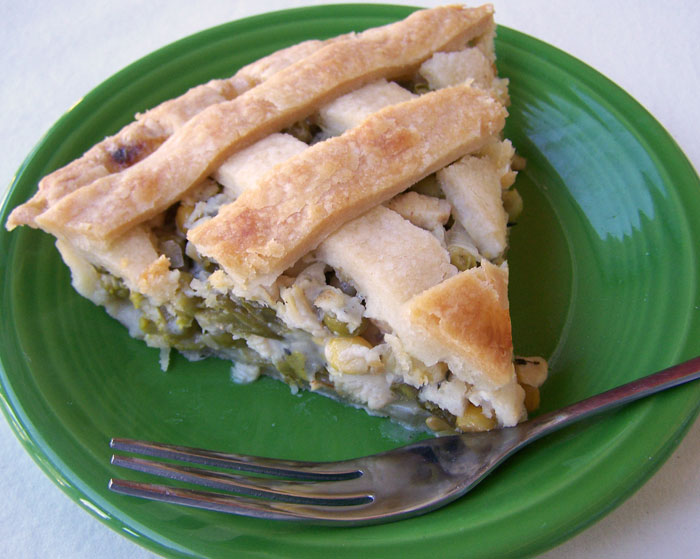 I've already established my love for chicken pot pie in soup form. What I love about that is how simple it is to throw together. When I think about making real pot pie, well, that just seems really complicated what with the, you know, pie part. So because of that I've never actually attempted to make real chicken pot pie. But lately I've been feeling more and more adventurous about cooking. These days I usually look forward to making dinner every night, most especially when I'm making something I've never made before.
Last week I got it in my head that I wanted to make a real pot pie and despite being almost 8pm I decided to go for it. I'd seen a bunch of pot pie recipes around on blogs I read, but all of them seemed too complicated or took too long (I didn't …
February 9, 2011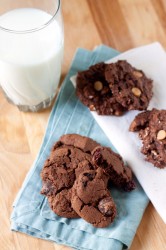 I wasn't able to post last week due to my work load being particularly crazy lately, so this week you get two recipes! I've been good about eating better and counting my Weight Watchers points for the past month, but sometimes I just get a craving for chocolate that won't go away. Especially now since it's almost Valentine's Day and there are lots of chocolate recipes floating around trying to tempt me. That's when I head to my trusty Cooking Light cookbooks because they always have really satisfying desserts that won't kill my diet. Both recipes I'm sharing today are rich and chocolatey and will satisfy your worst chocolate craving, but they happen to be quite low in fat and calories so you don't have to feel bad about eating either of them!
December 27, 2010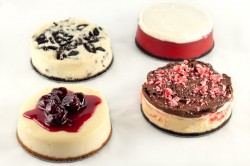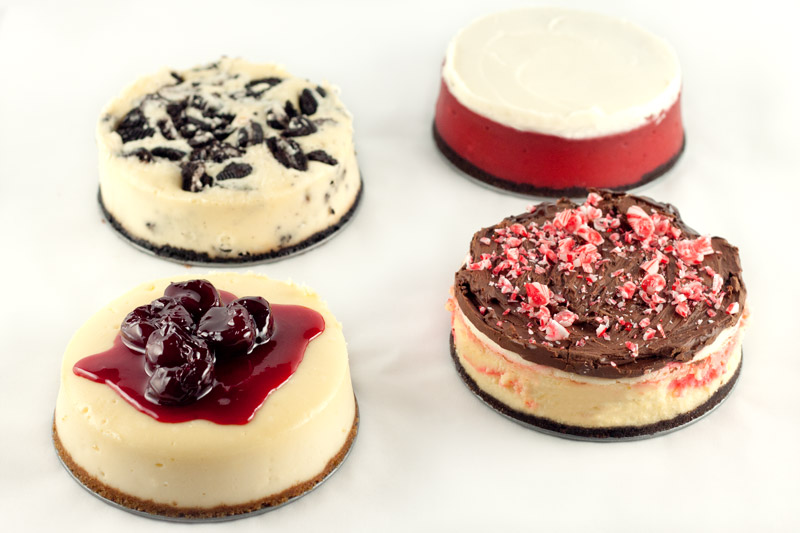 I hope everyone had a nice weekend! Brandon and I had a pretty laid back Christmas, we stayed in and watched movies and played video games all weekend. It even snowed a little bit on Saturday so we got the proverbial white Christmas. After going all out for Thanksgiving last month, I really wasn't in the mood to kill myself making a big dinner again so instead we had a small ham and I made my favorite Pineapple Stuff to go with it. But it is Christmas, so I couldn't resist having fun with dessert.
One of my presents this year was a set of mini springform pans. Cheesecake is most definitely our favorite dessert, and we agree that the recipe I use is the best cheesecake we've ever had (two years later I still get regular …
August 31, 2010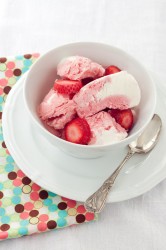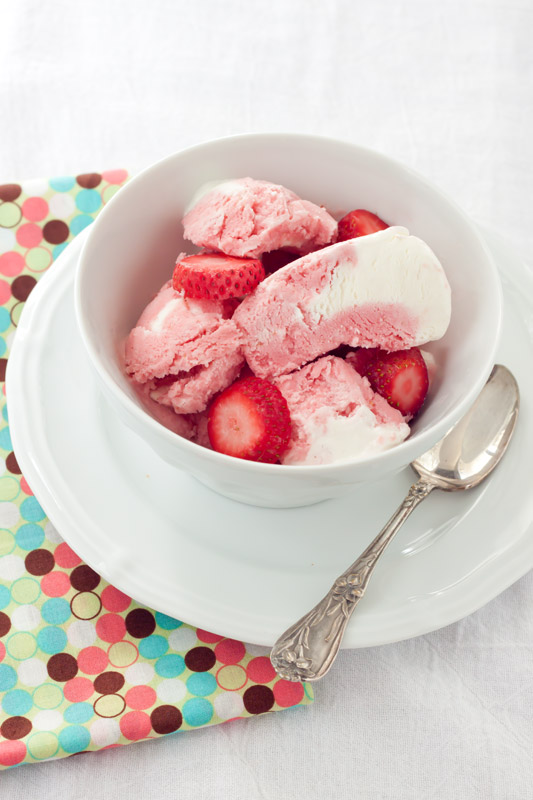 I can barely believe it's September already. The summer is basically over and I realized that I haven't made any ice cream yet! I had all these grand plans that I was going to finally buy an ice cream maker and make all different kinds of flavors of ice cream and frozen yogurt. But no, I never did get that ice cream maker and now it's looking like I'm going to have to buy a new blender, so I guess the ice cream maker will just have to wait another year.
But I didn't want the summer to be over without making any ice cream and luckily, it's still pretty easy to make without the machine. All you need is a freezer and a mixer (or even strong arms and sturdy whisk will do). I decided to make frozen yogurt again because of how …