August 4, 2010
I'm not 100% happy with the name of this recipe. Caramelized Cinnamon Toast might be better, but calling it French Toast is more descriptive of how it's made. I would say this is a combination of French Toast and Cinnamon Toast, but Caramelized Cinnamon French Toast is way too long, so we'll just keep it simple. Everyone knows what French Toast is, right?
I've never been a big fan of French Toast. Don't get me wrong, I've never disliked it, but in the world of breakfast foods, I'd usually rather have pancakes or pastries. In fact, I'm not sure I've ever even made it at home before. I remember my mom used to make it when I was a kid (though not as much as pancakes or waffles) and of course I've had it at restaurants, but I guess it's never occurred to me to actually make French Toast myself. But Cinnamon Toast? Well, that is one of my most favorite things in the whole world. I make that all the time. So much so that I have a bottle just to store my …
More Recipes
October 8, 2013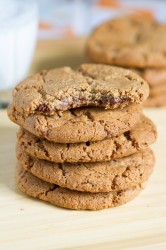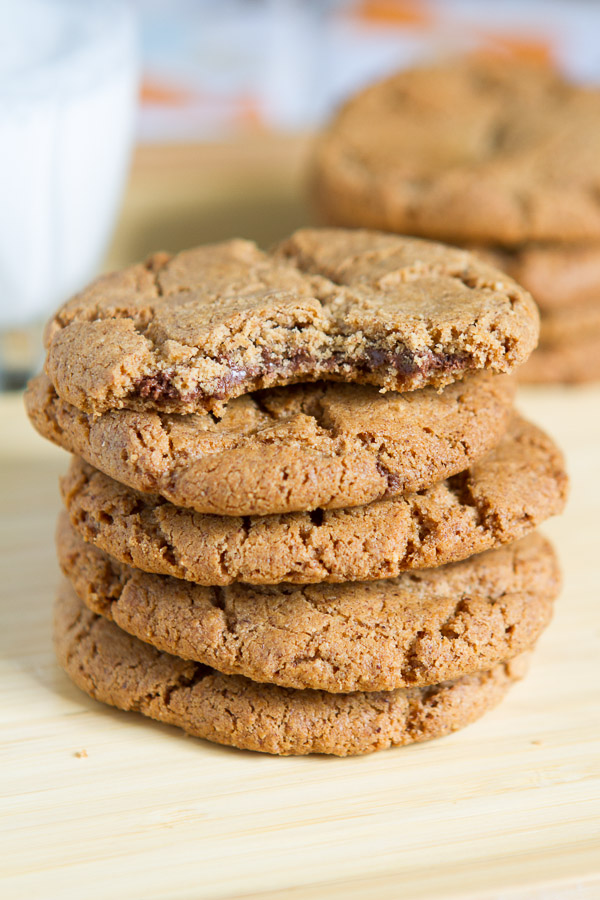 It's been a little over two weeks since I completed Whole30. It wasn't easy, but I'm so glad that I did it and I'm really happy with the results. So far, I've dropped 15 pounds but the biggest difference has been losing 6 inches off my waist and 3 inches off my hips. Hello, smaller pants size! The only other time I've ever lost this much weight was when I did Weight Watchers about 5 years ago. That took a lot of dedication and point counting and feeling hungry most of the time. What I really liked about Whole30 was just being able to eat without counting calories or feeling like I was supposed to starve myself to get results.
It's also been very illuminating to find that even when you can't have grains, sugar or dairy, there is …
October 24, 2011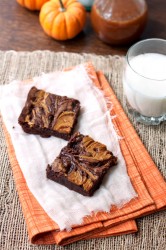 Looking back through my archives I realized I've posted at least one chocolate-pumpkin dessert before Halloween for the past few years, so I figured it was past time to post a recipe like this, especially after all the apple recipes I've posted lately. Fruit is great, but for me at least, chocolate will always be better.
I've actually been working on this recipe for a while. I made some pumpkin swirl brownies last Halloween and even photographed them, but I kept deciding against posting them because they weren't quite good enough. Something was missing. But then earlier this year I discovered Supernatural Brownies. These are hands down my favorite brownies. Ever. And I have tried lots and lots AND LOTS of brownie recipes. I'm not into cakey brownies (if I wanted cake, I'd make that instead!), I like fudgey brownies and these are moist and fudgey beyond belief.
March 20, 2013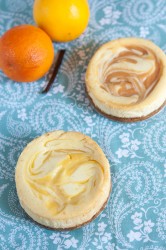 After my trip down to the Gulf Coast in February, I came home with a ton of Meyer Lemons from my aunt's own tree. I've been steadily trying to use them up in muffins or any other lemon recipe I could find, but in the end I wound up making lemon curd. I hope everyone reading this has made lemon curd before and if not, get yourself some lemons so you can make it soon! The process is quick and simple and you'll want to spoon some of that sweet-tart lemony goodness on everything from your morning toast, to your ice cream for dessert.
Since I had so many lemons to use up, my batch turned out to be almost 3 cups of curd, which unfortunately wasn't going to keep forever. I'm …
February 15, 2012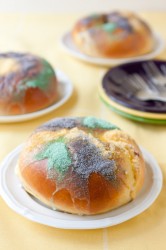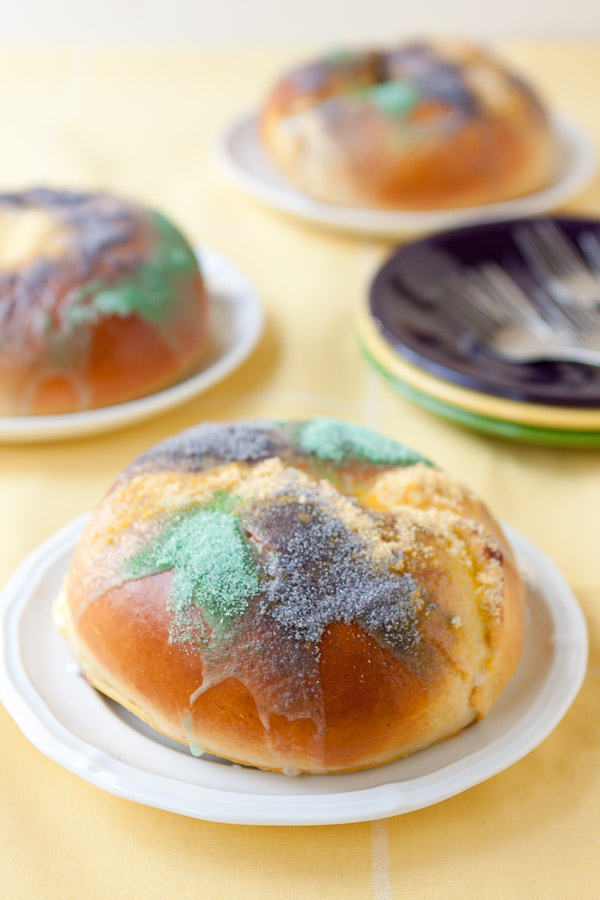 Even though I haven't lived anywhere that celebrates Mardi Gras for a very long time, I grew up on the Gulf Coast and still have lots of fond memories of going to the parade every year. And since my birthday is in late February, Mardi Gras has fallen on or near the same day—the date changes every year, along with Easter—a bunch of times so I would usually have some kind of Mardi Gras themed party and we'd order a King Cake instead a normal birthday cake. This year, Mardi Gras happens to be next Tuesday, the day after my birthday, so I thought it would be fun to have a King Cake again.
King Cakes I've made in the past have always been huge, not only hard to handle and store but they'd wind up drying out before we could finish eating them. So this time, rather than making …
February 7, 2012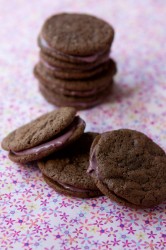 I've never made a big deal about Valentine's Day. It's nice to get some flowers but I don't expect anything else. We don't even bother going out to eat on Valentine's Day anymore because the restaurants are always so crowded. Besides, my birthday is less than a week later so it's easier to celebrate both occasions then. But there is one thing I love about Valentine's day, especially since I started this blog: it's a great excuse to make chocolate desserts!
I decided to make some cookies because Brandon's coworkers have been asking for more cookies from me ever since my epic cookie testing project last December. It's definitely flattering that they liked my cookies so much, so it seemed like a good idea to keep them happy and to find a great recipe to post for Valentine's Day at the same time! I found these chocolate malt cookies in one …
June 5, 2009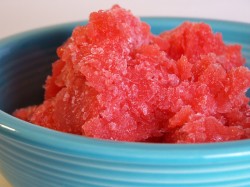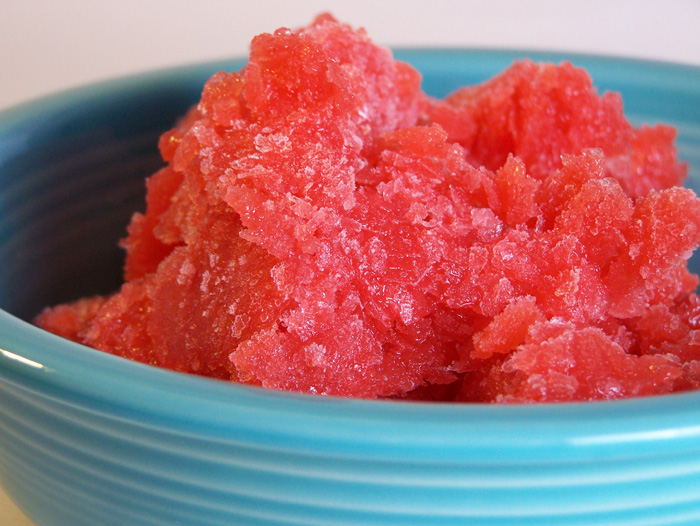 I have a very obsessive personality. It tends to invade all aspects of my life from how I work to the music I listen to and the amount of time I spend on the internet or how much TV I watch. (I'm not a "casual" TV viewer at all, I either have to see every episode of a show from the very beginning or I don't watch it at all; I HATE missing episodes and I'll only start watching a show in it's second or later seasons if I can catch up by watching the DVDs of previous seasons first.)
But my obsessive personality has a really big effect on how I eat. It's probably one of the reasons I've always been such a picky eater. When I decide I don't like something, then that's it, I don't eat it again. Ever. I haven't eaten a …
July 2, 2010
Thanks so much to everyone who participated in my giveaway, it was really fun to read everyone's comments and learn about some of your food preferences. I'll definitely be thinking about your answers when I'm looking for new recipes to share in the future!
Anyway, let's get to it, shall we? I wanted to make it as fair as possible, so I made a numbered list of each comment in the order they were posted and then I entered the number range in the random number generator and got it to pick 2 numbers.