March 29, 2011
It feels weird to be posting a soup recipe when it's almost April, but it actually snowed in Charlottesville this past weekend so Spring isn't quite here yet, at least for many of us in the top half of the country. And you know what? That's kind of okay with me. Spring is beautiful time of year up here, but I actually prefer cold weather. Plus I get to eat more soup! I don't think there's anything I love more than soup (well anything that doesn't have sugar in it, anyway).
During the colder months I make soup at least once a week, but I've been making it less in the past few months. So last week when the temperature dropped and brought rain and snow with it, I knew I had to make some soup. I figure it's my last chance before it gets too warm. I recently had some potato soup at Panera Bread and it made me remember how much I love it, so I decided to improvise my own version at home. I love spicy soup like my favorite Chicken …
More Recipes
May 24, 2011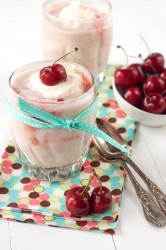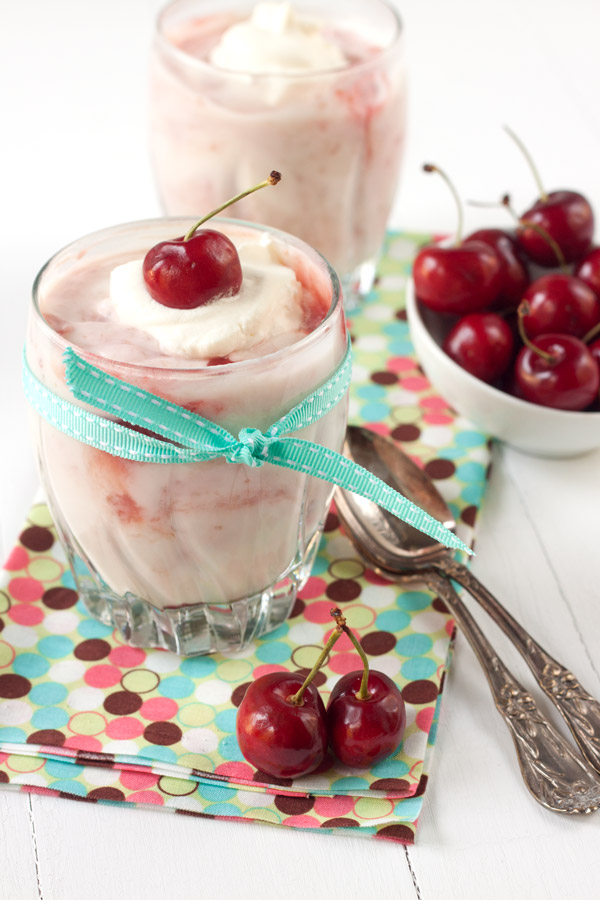 After discovering my love for cherries late last summer, I was ecstatic last week when I went to my grocery store and they had cherries in the produce section for the first time this year. I'll just tell you right now that you should be expecting lots of cherry recipes this summer. I wasted too many years turning my nose up at them and I gotta make up for it!
My grocery store also had some rhubarb in stock and I grabbed some since I've never tried it before and I'm all about trying new fruits and vegetables these days. I'm not going to make the same mistake I made with cherries! When I was looking through a new cookbook and saw this recipe, it seem like it would be a great use for the rhubarb.
August 29, 2008
Oops.  Just realized it's been a few weeks since I updated.  It's been a rough month as far a cooking goes but things are finally looking up.  Me and my boyfriend were really sick for an insanely long amount of time (I kept re-catching the same damn cold).  So cooking and/or eating wasn't a huge priority.  Then last week was stupid Tropical Storm Fay, which more or less stopped in my area for about 3 days, so I wasn't able to get groceries.  The one day I did make dinner, the power cut out in the middle of cooking it.
But that doesn't mean I haven't been cooking at all.  I've had a few failed recipes or at least recipes that I didn't think were blog worthy.  I've made some VERY yummy things, too, but they were things that cooks much better than I have already posted about on their own blogs. So with that in mind, I will link to these wonderful dishes which you should go and make right this minute.  Also, I just wanted to mention my Food and Recipe Links on the sidebar over there.  I bookmark lots of yummy recipes from all the foodblogs I read, so I highly recommend taking a look if you are searching for something new to make.
January 26, 2011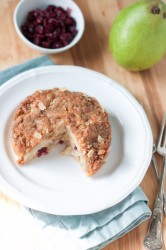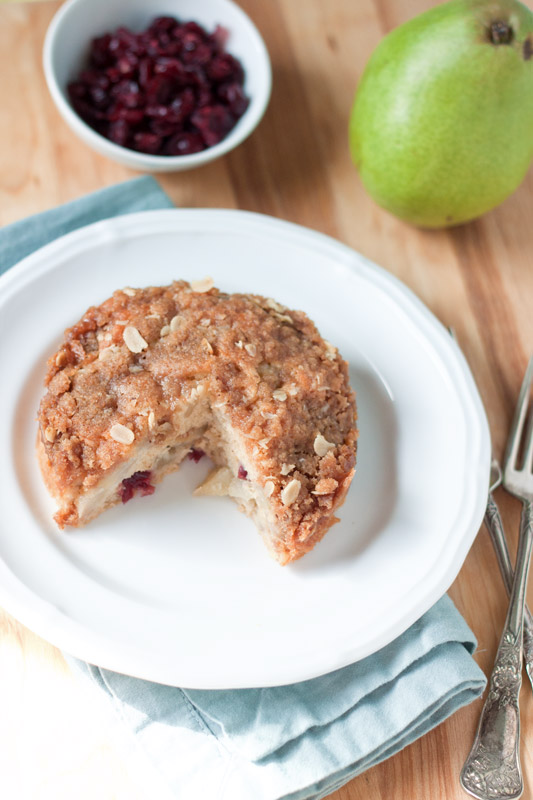 Streusal is probably one of my most favorite words to say as well as one of my favorite things to eat. But now I have a new favorite word: Kuchen. Kuchen just means cake in German, but it's so much more fun to call it kuchen, isn't it? Whatever you want to call this recipe, it's really good and very easy to make. It got the Brandon seal of approval and he rarely likes fruit-filled cakes, especially ones with cranberry. He said it tasted way too good to be a light recipe, but it is, so you don't even have to feel guilty about eating it!
This is basically a coffee cake, but it doesn't matter if you eat it for breakfast or dessert. I would venture to guess that you'll want to have it both times! It's an extremely moist cake, filled with caramelized pears …
July 13, 2010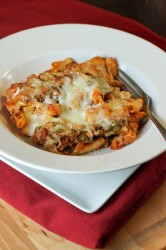 Lately, I've been feeling like I'm in a food rut, making the same things over and over again, so I'm making an effort to try new things; not just new recipes, but new ingredients that I've never eaten or cooked with before. The easiest way I've found to do this is to pick one cookbook and only make recipes from that cookbook for the next couple of weeks. That way I can't just go through and pick and choose the "safe" recipes, I actually have to try things that I would normally flip right past. This led me to choose a recipe with goat cheese in it, something I've liked in restaurant dishes, but not something I've ever bought and cooked with before. Well, that did it. I guess maybe it never occurred to me that you could buy goat cheese at a normal grocery store? …
September 12, 2012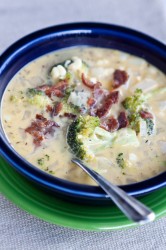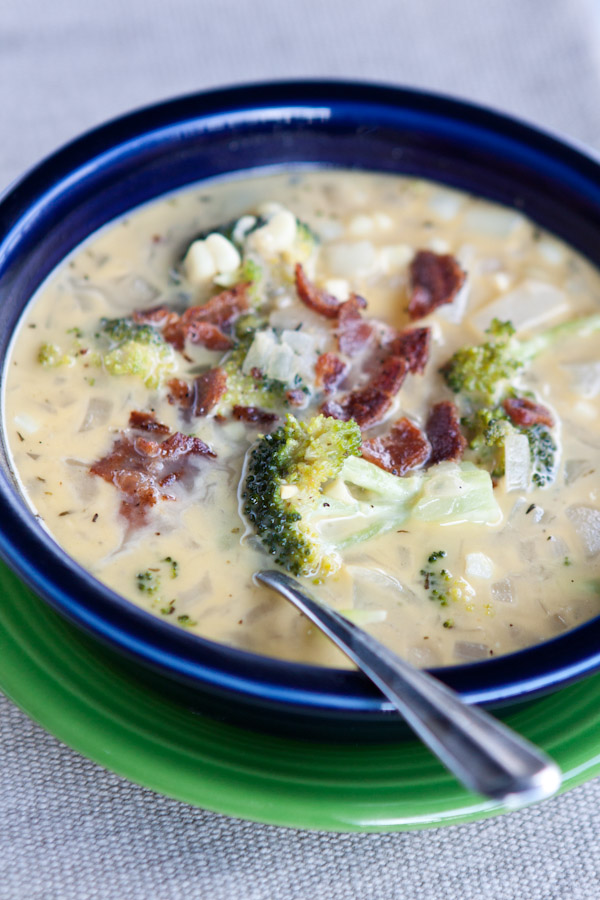 I've said here many times that Fall is my favorite season. Summer can never be over fast enough for me. Usually, I'm ready to declare it Fall as of September 1st despite what the actual weather or calendar says. But this year is different. It's weird. I almost feel like I'm cheating on Fall when I say this, but: I'm not ready for Summer to be over.
It's not so much that this has been a great summer, in fact it's been a pretty crappy summer filled with record high temps that chased me back into the safety of my air-conditioned apartment. No, the thing I'm regretting is that I missed out on all of the great produce. Looking back through my archives of last summer, I'm reminded of my Peach Dumplings and Blueberry Donut Muffins and …
January 19, 2010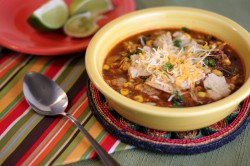 I didn't used to be a fan of soup. I don't know if that was one of those things that I turned my nose up at when I was a kid or if my mom just wasn't a soup person and so she never made it. Regardless, the only soup I ate for years and years and years was Campbell's chicken noodle or tomato. But when I started cooking for myself, I figured out two important things about soup: It's generally healthy (even the creamier ones still have vegetables) and it's really easy to make. Throw some stuff in a pot and you just made soup! I realize that making soup probably isn't a big deal for some people, but for me, who only ate soup from a can for 20 plus years? Making homemade soup is something I feel proud of, the same way …
May 20, 2009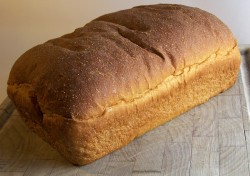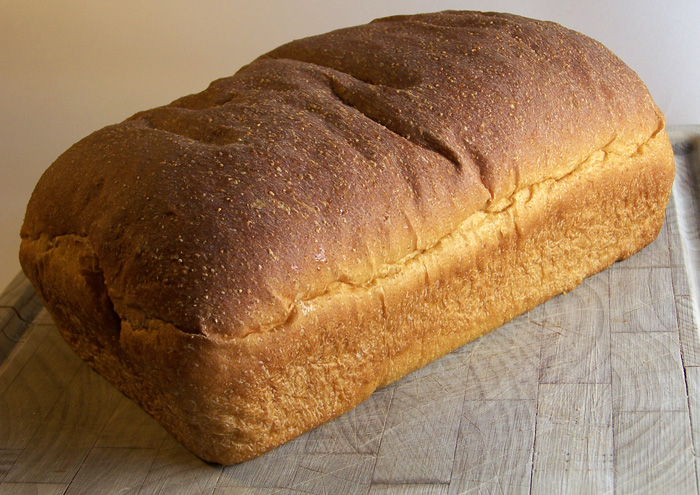 So I decided to do something a little crazy. The awesome Nicole at Pinch My Salt started a group to make every single recipe in The Bread Baker's Apprentice by Peter Reinhart. When she first announced it on Twitter, I was interested but ultimately decided it would be too much work. But then more and more people started joining with her and I kept thinking about it until she announced she was closing the group to new members. As soon as I heard that it made me realize how much I wanted to do this, so I emailed her immediately to join the group.