April 6, 2012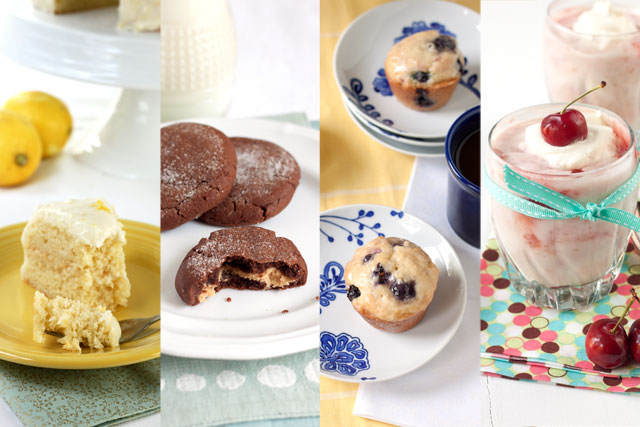 I was hoping to get a new recipe up here this week but several work deadlines haven't left me with much free time. So with Easter coming up I thought it would be a good time to post a round up of my favorite Spring recipes. At the end I also included a few links to fun looking Spring/Easter recipes from some of my favorite food bloggers. Check them out!
I'll be back next week with a new recipe. Hint: it's not very Springy but it'll be great for Cinco de Mayo next month.

March 21, 2012
Spring is officially here! And in the spirit of spring cleaning I've started going through my packed freezer to finally use up the last of the fruit that I froze last year. I got a ton of blueberries and blackberries from my CSA and have been using them in muffins all winter but after last week's Pop Tart adventure I didn't really want muffins or anything too carb-y. I've been craving a lemon dessert lately and lemons always pair well with berries so this was the perfect opportunity to finally make something.
Even though lemons are technically a summer fruit, there's really nothing else that evokes Spring to me as much as a lemon. It's just so fresh and bright, like the colorful blooms that are popping up all around my neighborhood these days. It's the perfect thing to help transition between the stark coldness of winter and the hot sunniness of summer.
I had bookmarked a recipe for lemon cream a while ago so I finally decided to give it a try. The recipe turned out to be so simple and tasty that I immediately made another …
March 14, 2012
Just like Spaghetti-os and Oatmeal Cream Pies, Pop Tarts are one of those things I loved when I was kid but have tried to stay away from as an adult. But since I had so much fun learning to make those other favorites at home, I figured it was time I finally attempted a Pop Tart. With the other recipes I was trying to make a homemade version that was close to the taste and texture of the originals. This time I wanted to make a healthier Pop Tart. But one that still, you know, tastes good. And while this recipe isn't especially low fat (by my calculations it's about the same as the store bought version), after some trial and error I feel like I came up with a satisfying compromise.
A Pop Tart is pretty much just pie crust with some type of filling, so the pastry dough is the most important part. I tried out several different "healthy" pie crust recipes first. Lesson learned: pie crust without butter SUCKS. It just does. But thanks to a tip from a reader (Thanks, Shel!), I figured out you …
March 7, 2012
We've already established that I love those crispy, chewy granola bars and I'm always on the look out for snacks like that so when I found this recipe I was almost angry with myself for not coming up with it on my own. Granola…with Rice Krispies in it. It's so simple and obvious! It's basically those granola bars without the extra step of making bars. I've always liked granola but it turns out this one simple addition was all I needed to fall in love with it.
Of course, it's not quite as simple as adding some rice cereal to oats. The thing that makes this granola a real treat is the chocolate. The oats and cereal (and pecans if you want, I left them out) are coated in a chocolate-honey mixture and everything is baked until it's nice and toasty. Then to make it extra good (and healthier) the granola is topped off with some dried cherries or cranberries. Eat this chocolate granola with milk like a cereal (with bonus chocolate milk left over!) or sprinkle it on your yogurt or you can just do what I …
February 29, 2012
I enjoy cooking but since I only taught myself to cook through sheer force of will, a bookshelf full of cookbooks and lots of food blogs some of my technical cooking skills are pretty lacking. Baking comes to me pretty naturally but I still struggle a lot with cooking. I think it's because baking is mostly linear: you mix all the dry ingredients, then you mix all the wet ingredients, then you mix them all together, etc. Cooking seems to have a lot more multitasking: cook this in a pot and while you're doing that saute this other stuff in the skillet and while you're doing that chop this stuff up and on and on. I cannot tell you how much that stresses me out! That's why I'm a much more adventurous baker than cook. My favorite dinner recipes are the ones that are as simple as possible. But just because something is simple doesn't mean it can't be great. That's definitely the case for this roasted shrimp recipe.
I've made several different versions of this recipe in the past — always cooking the shrimp in a skillet — …
February 23, 2012
I mentioned last week that I had a lot of egg whites left over after making my king cakes. I wanted to make a cake since I was still in birthday mode, but after a fairly indulgent month eating chocolate cookies and cream cheese filled cakes, an angel food cake seemed like a nice alternative. A sweet treat without any of the guilt!
But I didn't want a plain angel food cake and I already made a chocolate one a few years ago so I decided to incorporate my current obsession: citrus! I just can't get enough of oranges and lemons and grapefruits lately and a citrus cake sounded really refreshing. I always feel like grapefruit is kind of underrated compared to other citrus fruits, so I decided to make the grapefruity-est dessert I could come up with. This grapefruit angel food cake is flavored with grapefruit juice and zest and then drizzled with a grapefruit syrup. I also mixed a little grapefruit juice and zest with strawberries to use as a garnish. Obviously, if grapefruit isn't your thing you can substitute your favorite citrus but despite how much …
February 15, 2012
Even though I haven't lived anywhere that celebrates Mardi Gras for a very long time, I grew up on the Gulf Coast and still have lots of fond memories of going to the parade every year. And since my birthday is in late February, Mardi Gras has fallen on or near the same day—the date changes every year, along with Easter—a bunch of times so I would usually have some kind of Mardi Gras themed party and we'd order a King Cake instead a normal birthday cake. This year, Mardi Gras happens to be next Tuesday, the day after my birthday, so I thought it would be fun to have a King Cake again.
King Cakes I've made in the past have always been huge, not only hard to handle and store but they'd wind up drying out before we could finish eating them. So this time, rather than making one giant cake I decided to make small personal-size cakes. I don't think I'll ever go back to full size again! This recipe makes four 6-inch King Cakes which are adorable and easy to carry and store. I think they'd …