August 28, 2012
The mousse is very simple mixture of lemon curd (which only takes about 15 minutes to make and can be made up to a week in advance) and whipped cream. So simple! I make a big batch of lemon curd at the beginning of the week, then when dessert time rolls around I whip up a little cream and mix in a few heaping spoonfuls of curd. In 5 minutes you have a smooth-silky-light-fluffy-sweet-tart lemony treat. Bonus: the extra lemon curd is fantastic in yogurt, slathered on cake or muffins or just eaten by the spoonful!
And be sure to try this with Meyer Lemons when they're in season again next year. I was lucky enough to find Meyer lemons very late in the season and this was one of the first things I made with them.
April 26, 2012
I've been making an effort to eat breakfast every morning. This is pretty difficult for several reasons: I'm not a morning person and even pouring a bowl of cereal can be too much to handle some days. Also, I'm just not very hungry in the mornings. A cup of coffee is more than enough to fill me up. For these reasons I have to cheat by making myself a "dessert" in the mornings. Basically, something that's so good, I can't pass it up. Since they can be made ahead of time, muffins are usually my go-to treat. I've made a lot of muffins in my time and they usually fall under delicious but unhealthy or healthy but dry and/or boring. With these peanut butter muffins I feel like I finally found the perfect compromise of healthy but still delicious.
These muffins are packed to gills with nutritious ingredients. They're made with whole wheat flour and oats and they don't have any processed sugar (though if you don't have maple sugar you can use white sugar instead). The recipe doesn't contain eggs, so the muffins can be made dairy-free with soy …
April 19, 2012
If you couldn't tell from previous posts I have quite a long list of store-bought-food-I-want-to-learn-to-make-at-home. After I cleared off Spaghetti-Os, Soft Batch cookies were next on the list. They're probably my second favorite kind of store-bought cookie (because nothing is better than Oreos). I like them so that I can only ever buy the small packs that you get from gas stations because I can't trust myself around an entire package. If you're unfamiliar with these cookies, they're basically what they sound like: extremely soft and chewy chocolate chip cookies. It's sort of like eating cookie dough but without the threat of getting sick since they're baked.
I bookmarked this recipe for Soft Batch cookies a while back and finally got around to trying it out earlier this month. That's when I realized that although I love the texture of those cookies, they don't really have much flavor other than the chocolate chips. So I decided to change the recipe a bit and add one of my favorite ingredients: peanut butter! I had to do several tests (Is Cookie Recipe Tester a real job? Because I …
April 11, 2012
When it comes to dinner, Mexican food is my big weakness. I don't go out to eat too much anymore, especially compared to five plus years ago when Brandon and I dined out more days than we ate at home, but I can't give up my Mexican food. I go to my favorite Mexican restaurant at least every other week, sometimes more often. Whenever we move to a new town, finding a Mexican restaurant with a decent chimichanga and good queso blanco is my number one priority. And there have been some places (*cough* Jacksonville) where that meant trying out pretty much every Mexican restaurant in town.
I know I shouldn't eat at the Mexican restaurant so much, though. It's probably one of unhealthiest meals you can have. So whenever I see a Mexican-ish recipe in one of my many low fat/light cookbooks I always try it in the hopes of finding something satisfying that's not totally unhealthy. Most of the time I'm disappointed. I got this recipe from Martha Stewart's new Light cookbook
and I was …
April 6, 2012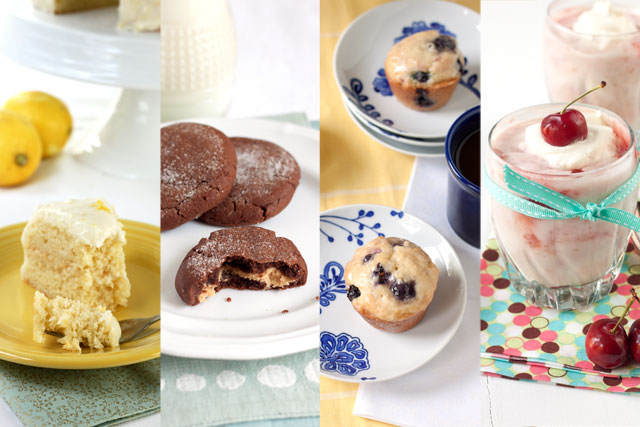 I was hoping to get a new recipe up here this week but several work deadlines haven't left me with much free time. So with Easter coming up I thought it would be a good time to post a round up of my favorite Spring recipes. At the end I also included a few links to fun looking Spring/Easter recipes from some of my favorite food bloggers. Check them out!
I'll be back next week with a new recipe. Hint: it's not very Springy but it'll be great for Cinco de Mayo next month. 🙂
March 21, 2012
Spring is officially here! And in the spirit of spring cleaning I've started going through my packed freezer to finally use up the last of the fruit that I froze last year. I got a ton of blueberries and blackberries from my CSA and have been using them in muffins all winter but after last week's Pop Tart adventure I didn't really want muffins or anything too carb-y. I've been craving a lemon dessert lately and lemons always pair well with berries so this was the perfect opportunity to finally make something.
Even though lemons are technically a summer fruit, there's really nothing else that evokes Spring to me as much as a lemon. It's just so fresh and bright, like the colorful blooms that are popping up all around my neighborhood these days. It's the perfect thing to help transition between the stark coldness of winter and the hot sunniness of summer.
I had bookmarked a recipe for lemon cream a while ago so I finally decided to give it a try. The recipe turned out to be so simple and tasty that I immediately made another …
March 14, 2012
Just like Spaghetti-os and Oatmeal Cream Pies, Pop Tarts are one of those things I loved when I was kid but have tried to stay away from as an adult. But since I had so much fun learning to make those other favorites at home, I figured it was time I finally attempted a Pop Tart. With the other recipes I was trying to make a homemade version that was close to the taste and texture of the originals. This time I wanted to make a healthier Pop Tart. But one that still, you know, tastes good. And while this recipe isn't especially low fat (by my calculations it's about the same as the store bought version), after some trial and error I feel like I came up with a satisfying compromise.
A Pop Tart is pretty much just pie crust with some type of filling, so the pastry dough is the most important part. I tried out several different "healthy" pie crust recipes first. Lesson learned: pie crust without butter SUCKS. It just does. But thanks to a tip from a reader (Thanks, Shel!), I figured out you …
March 7, 2012
We've already established that I love those crispy, chewy granola bars and I'm always on the look out for snacks like that so when I found this recipe I was almost angry with myself for not coming up with it on my own. Granola…with Rice Krispies in it. It's so simple and obvious! It's basically those granola bars without the extra step of making bars. I've always liked granola but it turns out this one simple addition was all I needed to fall in love with it.
Of course, it's not quite as simple as adding some rice cereal to oats. The thing that makes this granola a real treat is the chocolate. The oats and cereal (and pecans if you want, I left them out) are coated in a chocolate-honey mixture and everything is baked until it's nice and toasty. Then to make it extra good (and healthier) the granola is topped off with some dried cherries or cranberries. Eat this chocolate granola with milk like a cereal (with bonus chocolate milk left over!) or sprinkle it on your yogurt or you can just do what I …