September 30, 2010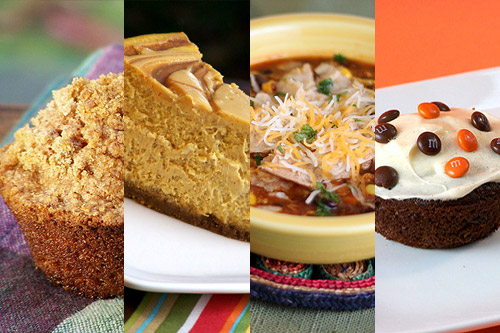 Okay, I'm cheating a little with this post. I've just gotten back from vacation so I haven't had time to try out any new recipes in a few weeks, but I did bake a bunch of muffins and breads to take on our trip and that got me looking though my recipe archives. Plus, I've seen a big increase in search engine traffic looking for soups and other Fall comfort foods, so I thought I'd make a list of my favorites.
I'll be back next week with something new, until then try out some of these great recipes:
September 14, 2010
So I know the actual first day of Fall isn't for a few weeks, but as far as I'm concerned Labor Day is the end of summer. After that it's Fall. Even when it's still 90 degrees outside. A year ago Brandon had just gotten a job here and we were preparing to make the move from Florida to Virginia. I cannot tell you how much happier I am in Virginia and the main reason for that is because of Fall (and Winter, Spring and even Summer). There are actual seasons here! Maybe I'm strange for being so affected by the weather, but I found the static-ness of Florida's temperature and landscape to be utterly depressing (I probably would've felt differently if we had lived closer to the ocean, which I love, but unfortunately we were right in the middle of the state). Since I wasn't here this time last year it's nice to go out and see the beginnings of Fall; leaves are already starting to change color and fall off. In short, I'm really excited about Fall. Probably more excited than …
August 31, 2010
I can barely believe it's September already. The summer is basically over and I realized that I haven't made any ice cream yet! I had all these grand plans that I was going to finally buy an ice cream maker and make all different kinds of flavors of ice cream and frozen yogurt. But no, I never did get that ice cream maker and now it's looking like I'm going to have to buy a new blender, so I guess the ice cream maker will just have to wait another year.
But I didn't want the summer to be over without making any ice cream and luckily, it's still pretty easy to make without the machine. All you need is a freezer and a mixer (or even strong arms and sturdy whisk will do). I decided to make frozen yogurt again because of how much I enjoyed the frozen yogurt I made last summer. It's better for you than ice cream, but it's just as creamy and delicious so it doesn't taste like you're sacrificing anything.
August 17, 2010
I've always been a really picky eater. I've made some progress on that front since I started this blog, but I'm still way too picky to be called a "foodie" or anything like that. But this summer I've made some pretty big discoveries that have challenged my preconceptions of certain foods and because of that I've decided to change. I made this challenge to myself: I will try everything at least once. If I don't like it, fine, but at least now I know I don't like it and I'm not just assuming based on how it looks or smells or whatever weird childhood memories it brings up.
For example, I've never liked carrots because in elementary school I threw up in the middle of the cafeteria after eating some. Now it turns out, I still don't really like the taste of raw carrots. But I use carrots in my cooking all the time now because I've discovered that if they are in something else, like a soup or salad or pot pie, then I don't mind them. I used to obsessively pick …
August 4, 2010
I'm not 100% happy with the name of this recipe. Caramelized Cinnamon Toast might be better, but calling it French Toast is more descriptive of how it's made. I would say this is a combination of French Toast and Cinnamon Toast, but Caramelized Cinnamon French Toast is way too long, so we'll just keep it simple. Everyone knows what French Toast is, right?
I've never been a big fan of French Toast. Don't get me wrong, I've never disliked it, but in the world of breakfast foods, I'd usually rather have pancakes or pastries. In fact, I'm not sure I've ever even made it at home before. I remember my mom used to make it when I was a kid (though not as much as pancakes or waffles) and of course I've had it at restaurants, but I guess it's never occurred to me to actually make French Toast myself. But Cinnamon Toast? Well, that is one of my most favorite things in the whole world. I make that all the time. So much so that I have a bottle just to store my …
July 28, 2010
img class="centered" src="http://farm5.static.flickr.com/4112/4838051960_4e5193608b_z.jpg" alt="Thyme-roasted Chicken with Potatoes" width="640″ height="426″ />
I'm not a very talkative person. I think that's something that readers of this blog might be surprised about. Because I know my posts tend to be long, especially compared to a lot of other food blogs I read. But if you met me at a party, I might not say much, whereas if you give me a keyboard and a textbox to fill, I could probably "talk" for hours on end. That's one reason I love blogging and the internet so much. I guess I just feel more free to express myself here than I do in "real life". That's probably something I need to work on, but that's not really for this post to address.
The point I'm trying to make is that I'm usually so excited about sharing a recipe and describing why it's so good and my experience making it etcetera etcetera that I never have trouble coming up with things to say about it. Editing that sentiment down to something more concise is what always trips me up.
July 20, 2010
I'm always up for a baking challenge so when Julie over at Willow Bird Baking challenged her readers to make croissants, I didn't hesitate to sign up. I love croissants, but like donuts, I rarely eat them because of how bad they are for you. But there's just something about making something from scratch that makes it seem less bad for you. I guess because you have to put actual time and effort into making it instead of just going into a store and buying it. Plus, it's Brandon's birthday this week and that is one of the 4 times of the year (along with my birthday, Thanksgiving and Christmas) that I let myself eat whatever I want without feeling guilty about it.
And these croissants? Are absolutely worthy of much guilt, but they're just way too delicious and way too much work to feel guilty about. I mean, I made these croissants. From scratch. All by myself. That is an accomplishment, not something to feel bad about. These croissants taste better than any that I've had from a bakery or store. It could just be because …