January 10, 2011
Happy New Year, everyone! It's time for my semi-annual I'm-going-to-get-in-shape-I-really-mean-it-this-time, so you'll have to indulge me while I post some healthier recipes over the next few months. (Don't worry, there will still be treats! I'd never give up dessert, I just find ones that aren't as bad for you.) Honestly, I really overindulged on cheesecake and cookies last month, so I'm ready to get back to eating better and eating less processed food. I've been eating a piece of fruit for dessert every day this past week and it's been perfection.
I'm always looking for easy things to have in the morning with my coffee and muffins are definitely my favorite. Unfortunately, a lot of muffin recipes are not that healthy. And of course, my favorite kinds of muffins have things like streusal on them which make them even worse for you. These muffins surprised me because they contain healthy, but not tasty, sounding things like whole wheat flour, flaxseed and oats and yet they are delicious.
December 27, 2010
I hope everyone had a nice weekend! Brandon and I had a pretty laid back Christmas, we stayed in and watched movies and played video games all weekend. It even snowed a little bit on Saturday so we got the proverbial white Christmas. After going all out for Thanksgiving last month, I really wasn't in the mood to kill myself making a big dinner again so instead we had a small ham and I made my favorite Pineapple Stuff to go with it. But it is Christmas, so I couldn't resist having fun with dessert.
One of my presents this year was a set of mini springform pans
. Cheesecake is most definitely our favorite dessert, and we agree that the recipe I use is the best cheesecake we've ever had (two years later I still get regular comments from people who love the recipe) but I only make it on special occasions for two reasons: 1) a 10″ cheesecake is A LOT for two people to eat and 2) we never ever agree on which flavor …
December 22, 2010
Well, it looks like I found something to post this week after all! I whipped these up last night (side note: does anyone else love baking at midnight or am I weird?) and they are so easy and fun that I just had to share. This is a great last minute dessert and kids will surely love them.
I've been looking for a recipe for soft, chewy brownies for a while and these totally hit the spot. They're a cross between a brownie and a cookie, so you can make them either way! The original recipe makes them like drop cookies, but I thought it would be fun to use my mini-muffin pan and make them into cute little brownie bites.
This is a very basic recipe, so I thought I'd have fun with it. I was cleaning out my cabinets the other day and discovered that I have tons of baking chips in all flavors: chocolate, mint, butterscotch, peanut butter, cinnamon, etc. I needed to use them up, especially since I don't plan on a lot of cookie baking in January and this was the perfect …
December 20, 2010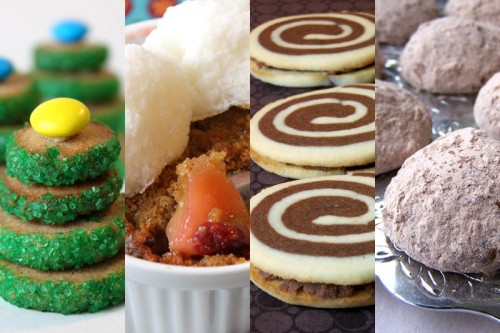 I tried to make a pie for you guys this weekend. I really did. But, it didn't work out. I could post it, but (A) it's really ugly and (B) it's just ok. I think it could be really good, but the recipe needs work and probably a whole different crust (I think it needs to be a tart instead of a pie), so I'll wait to post it until I have it right. But unfortunately, that leaves me with nothing to post this week, so I decided a round up was in order. These are all great choices if you're looking for some last minute cookies or sweets to make. You also may want to check out the Cookies archive as there are a few others I didn't include here.
I have a really awesome dessert I'm planning for Christmas dinner, so I may go ahead and make it early and try to get it posted here, but if I don't, I hope everyone has a lovely weekend!

December 16, 2010
Finally! I've been looking for this recipe for years and I finally found it. You see, Chicken and Dumplings is my boyfriend's favorite dish and he's always wanted me to make it at home. And I have tried, but the problem is there are lots of different recipes for chicken and dumplings and all the recipes I've tried haven't been "right", according to him.
Here's what the right kind aren't: the kind with actual little round dumplings on top. Because I guess that would just be too easy? I've tried several recipes like that, one from Martha Stewart, and while Brandon agreed that those recipes weren't bad, they still weren't "right".
The right kind of chicken and dumplings are the kind that Brandon's grandmother makes. They are the kind you get at Cracker Barrel. They are true southern style, and they don't actually have dumplings, it's more like slabs of tender and delicious biscuit dough. You could think of them as really big, thick noodles. There are no silly things like vegetables in here, it's just chicken, chicken stock and dumplings. Period. You can eat …
December 7, 2010
These cookies have been on my mind for a while. You see, 10 months out of the year I make a pretty concerted effort to eat healthy. Obviously I splurge sometimes, many posts on this blog can attest to that, but for the most part I try to limit the really high fat/calorie foods to only a few times a month. But then Thanksgiving comes around and I go absolutely nuts. Did you know that the mashed potatoes I made had butter, half and half AND cream cheese. Yeah. And I didn't feel even slightly guilty for eating them. Because they were damn good. There's just something about the period from Thanksgiving until New Year when I just don't care. I want to eat all my favorite foods no matter how unhealthy they are and the guilt I usually have isn't there anymore.
So when everyone was talking about cookies last week on twitter it made me realize how much I've been wanting to make these. I made them a couple of years ago and every time I go through my recipe binder I think about making them again. Finally, with Cookie Week and my guilt on vacation, it was the perfect time.
I decided to play with the original recipe a bit, but it still has the same components: shortbread, chocolate, peppermint. I honestly can't stand most of those bland sugar cookies that everyone seems to make this time of year, I'd much rather have delicious, buttery, shortbread. Each shortbread cookie has a layer of peppermint infused chocolate spread on the bottom. Then I lightly brushed a peppermint glaze on top that soaks into the shortbread and I sprinkled on some colored sugar. If you want to go extra peppermint crazy, you can stick two cookies together with a layer of peppermint filling in between!
If you think that sounds like too much peppermint, don't worry because I used very small amounts of peppermint extract. Plus the buttery shortbread works well with the peppermint and doesn't let it overpower the whole cookie. And you can always reduce the amounts to your own tastes. Or maybe even try another flavoring: I think orange extract would work really well.
These cookies are so good and highly addictive! I made them on Friday and Brandon and I had finished them off by Sunday. If you have lots of cookie lovers in your house, I would recommend doubling the recipe because they will go fast.
December 1, 2010
Well, I don't know about you, but I am absolutely swimming in leftovers after Thanksgiving. Every year I say I will halve all the recipes, but I never do! This year we wound up having a surprise guest when Brandon's brother called a few days before Thanksgiving asking if he could join us, so it was good that I had planned to make so much. But even with one extra person eating, my fridge is still stuffed with food almost a week later. I decided I needed to get rid of the turkey since that was taking up the most space and this soup was the first thing that came to mind.
This recipe is sort of a combination between a creamy soup and a–I guess I'd call it–brothy soup. It has the stock/broth base with evaporated milk added in which gives it a bit of creaminess, but it never really gets very thick. The rice is what gives the soup more body. I don't normally even like wild rice, but combined with all the vegetables and turkey, it's very good in this soup.